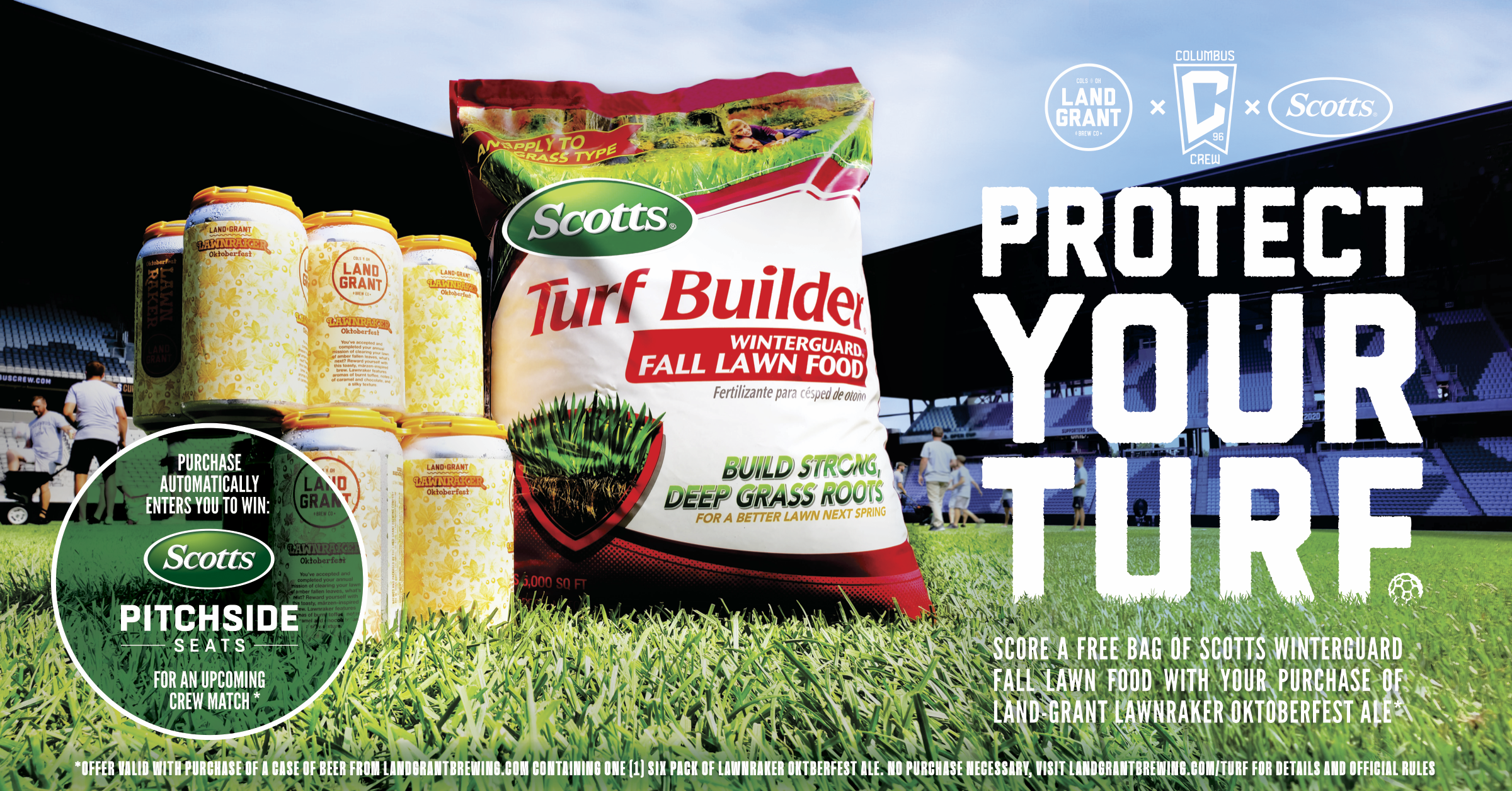 As summer fades to fall and the leaves begin to change, we know three things to be true.
It's time to rejuvenate your lawn with Scotts Turf Builder WinterGuard.
The greatest reward for a "yard well done" is an ice cold Land-Grant Lawnraker Oktoberfest.
Nothing beats cheering on The Crew in person as the playoffs approach.
Scotts and Land-Grant have teamed up to help you PROTECT YOUR TURF this fall! Now through September 19, you can score a free bag of Scotts Turf Builder WinterGuard Fall Lawn Food when you purchase a case of beer from Land-Grant that includes at least one six-pack of Lawnraker Oktoberfest. Plus, as official partners of The Columbus Crew, your purchase of this Protect Your Turf  promotion enters you in to a contest to win two Scotts Pitchside Seat tickets and a parking pass to the November 7 match against Chicago Fire FC, a Columbus Crew merch bundle, a tour of Lower.com Field and a meet and greet with the Columbus Crew Grounds Crew to get all of your expert lawn tips answered! Ten additional winners will also score the tour of Lower.com Field and the meet-and-greet with the Grounds Crew – so grab your Lawnraker and WinterGuard today!
CONTEST DETAILS
No purchase, payment or consumption necessary to enter or win the Protect Your Turf Sweepstakes. Making a qualifying purchase will not increase your odds of winning. For a free alternative method of entry, please complete the form below. Click here to view official rules.