Franklinton Friday Music Series
Our partnership with the Franklinton Arts District has brought the 2021 Franklinton Friday Music Series to our Beer Garden all summer long, and this week is no exception! This Friday, we'll again be hosting free live music on our stage in conjunction with Franklinton Fridays. In addition to showcasing these talented local musical openers and headliners, each concert will also feature special performances of songs created by young students from local non-profit We Amplify Voices (WAV).
Benefit Beers // The Label Art
As a complement to our local live music on Franklinton Fridays, we have been releasing a brand new beer from our Experimental Series that features the artwork of a local artist to help raise funds for the Franklinton Arts District! Each month, a different local artist creates a design that is featured on both a concert poster and the label of our Franklinton Friday Benefit Beer! Single cans and six-packs of these limited edition Benefit Beers are available exclusively here at Land-Grant, with proceeds from their sales going back into our community to support the art and artists of the Franklinton Arts District.
The ABCs // Artist Behind the Can
Liv Barney – the designer of our August FFMS Benefit Beer label – grew up in Hilliard and returned to Central Ohio after graduating in 2017 from Savannah College of Art and Design. While Liv earned her degree in Computer Animation and originally focused much of her art in the realm of realism, she has evolved her efforts into ink drawings and stylized paintings with a lot of bold line work over the last 4-5 years.
"I studied computer animation and worked in imaging for forensic engineering for a few years, which was very much based in realism. Even my drawing style at the time was more realistic. It got to a point where I really just wanted to draw subjects quickly and in a more stylized manner," Liv said of the artistic style she showcases on the beer label. "Starting with these quick ink drawings really allowed me to be artistic and get things done faster, while also evolving my work into a style I really enjoy. Hearing people say they can feel movement within this work is another reason I gravitate toward this style, too, because it makes people feel my art."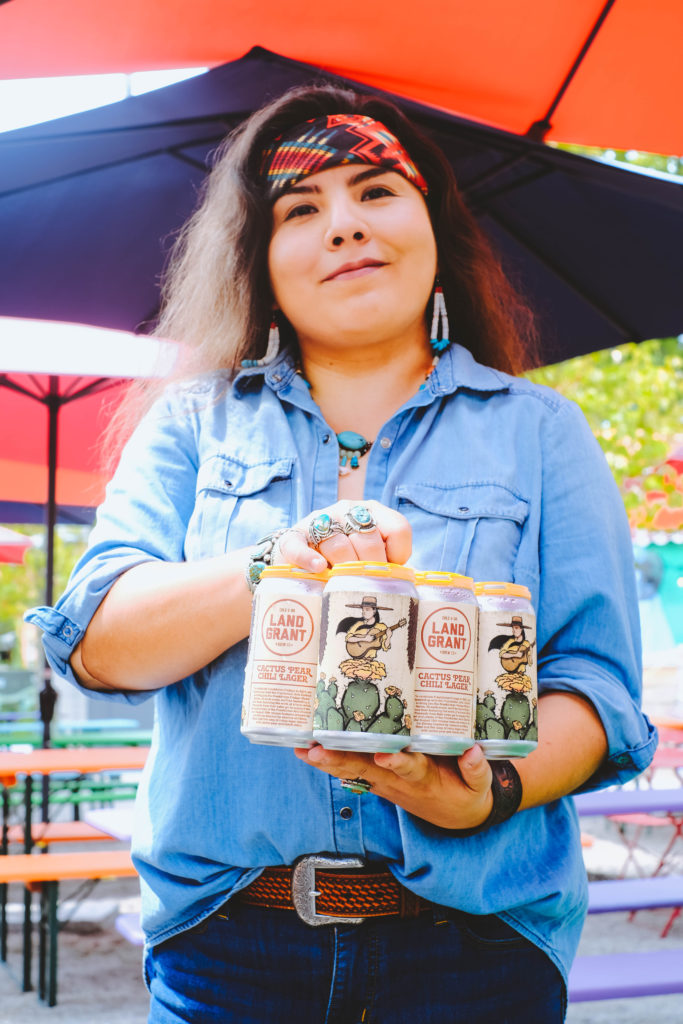 When conceptualizing her art for the can and concert poster, Liv said she began this design as she does much of her work – with a sandy, distressed base poised for pops of color from blooming desert accents. Pulling the color palette from the aesthetic of New Mexico where her family is from, the saturated golden yellow of the flower, turquoise-infused greens of the cactus and deep reds of the hatch chilis incorporate the Southwestern components found in much of her work. As far as the woman featured on the label, Liv was inspired by the evening's headlining act, even before they were booked for Friday night's show.

"I watched a performance of Mery Steel singing the song, "War", which had that country-infused twang of the guitar and members of her band wearing hats; I immediately thought 'Oh, this is a vibe!'," she said. "It was a lot like the music my family enjoys and what I was raised listening to, so I incorporated the guitar and the hat on the woman – who is dressed in yellow, as if she's blooming from the flower herself," Liv continued.
Liv's passion for the arts not only comes from her ability to represent parts of herself through her art, but also to use art to bring communities together and help tell people's stories. She currently does contracted animation and illustration work. Liv also does work with 934 Gallery, where she has been working as the co-chair of both the exhibitions and murals teams, helping local artists the same way she has been given opportunities in her career. She recently helped 934 Gallery launch a space at the Columbus Airport, bringing the faces and voices of Columbus artists to travelers from all around the country.
To date, Liv's work has been published multiple times by titles such as Red Rising Magazine, Native Realities Press, Michigan State University Press, and The University of Manitoba. Additionally, she's been a part of group exhibitions, had a solo show, and been a live painter at multiple events locally in Central Ohio. In 2022, she will be part of a group art show hosted by the Columbus Cultural Arts Center, tentatively titled "The Earth Is Us" – where she will create several different pieces that take a Native focus, highlighting multiple issues that Indigenous people look at when it comes to the environment.
When she's not busy animating, drawing, and painting, Liv enjoys spending her free time engaged with the arts. She loves movies and art-hopping, so be sure to look out for her at local art events, flea markets, museums, and film screenings around town. You can view more of Liv and her work across her Instagram at @artistlivbarney.
Inspired by the label that Liv designed, our head brewer developed this month's Franklinton Friday Benefit Beer recipe to pull in her Southwest inspiration into an easy-drinking lager. Infused with prickly pear and hatch chilis – this Cactus Pear Chili Lager is a complex, yet balanced brew.
Mery Steel, The George Barrie Band // The Music
This Friday, August 13, we welcome the music of Mery Steel to our stage, with opening act George Barrie Band kicking things off at 6:30pm in our Beer Garden.
Raised on John Prine and Steely Dan, local artist Mery Steel is a self-described "Weird-adjacent moody Ohio twang pop" artist who writes twangy bangers about love, lust and global warming. Her upcoming record is an homage to the Americana of the 80s, taking cues from Bruce Springsteen, Joni Mitchell and Tom Petty. Come for the lap steel, stay for the overshare.
The George Barrie Band's upbeat blend of groovy rock n' roll is inspired by bluesy songwriters across genres and generations. George first picked up his dad's red Fender guitar at age 11 and since then, he has built a career as a musician, songwriter, and producer here in Columbus. The George Barrie Band's first album, Keep Dreaming, was released in 2016. The group's second album, Boomerang, dropped in 2019, following a music video for the single, "Maybe".
"Boomerang…will lift you into the clouds…and quickly take you to the beach. With the shining melodies, wavy harmonies, and joyful lyricism it is exactly what a music listener wants to hear as spring turns to summer." – Doug Queen of Weird Music
Take a listen to these talented performers and get ready for a night of great music, fantastic art, and fresh local beer. Cheers!