December's Franklinton Friday Benefit Beer
The final Benefit Beer we're releasing in 2022 during December's Franklinton Friday is a collaboration in every sense of the word. From the recipe inspiration to the label on the can and everything in between (yes, including the brewing!) – our friends from Zora's House have been doin' it ALL!
Zora's House, named for author and activist Zora Neale Hurston, is a Columbus-based non-profit coworking and community space, leadership incubator and resource hub built by and for women and gender expansive people of color.
"Women of color are the fastest growing population in Central Ohio, and it's important to see spaces developed for this population," said LC Johnson, Founder and CEO of Zora's House. "The world that Zora's House is creating is a world that recognizes the full humanity of Black, Indigenous and other people of color,  and creates space for these communities to thrive, not just survive."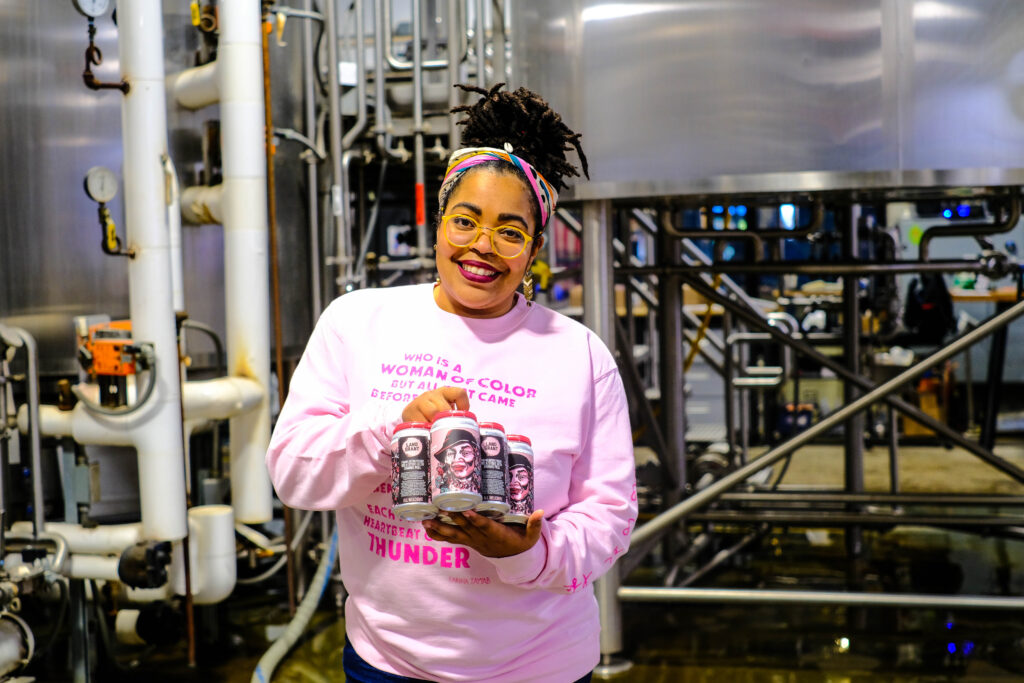 This Franklinton Friday, you can not only stop in to Land-Grant to learn more about Zora's House and try the delicious brew that they created, but you can also stroll over to GRAVITY Columbus to get a taste of the incredible work they're doing in our community. This weekend [Friday, Dec. 9 from 6-9PM and Saturday, Dec. 10 from 11AM-3PM], Zora's House is hosting their annual WoCO (Women of Color Owned) Holiday Market, which features products created by women of color artists and entrepreneurs, exclusive Zora's House merch, and music by the Sweet Tooth DJs.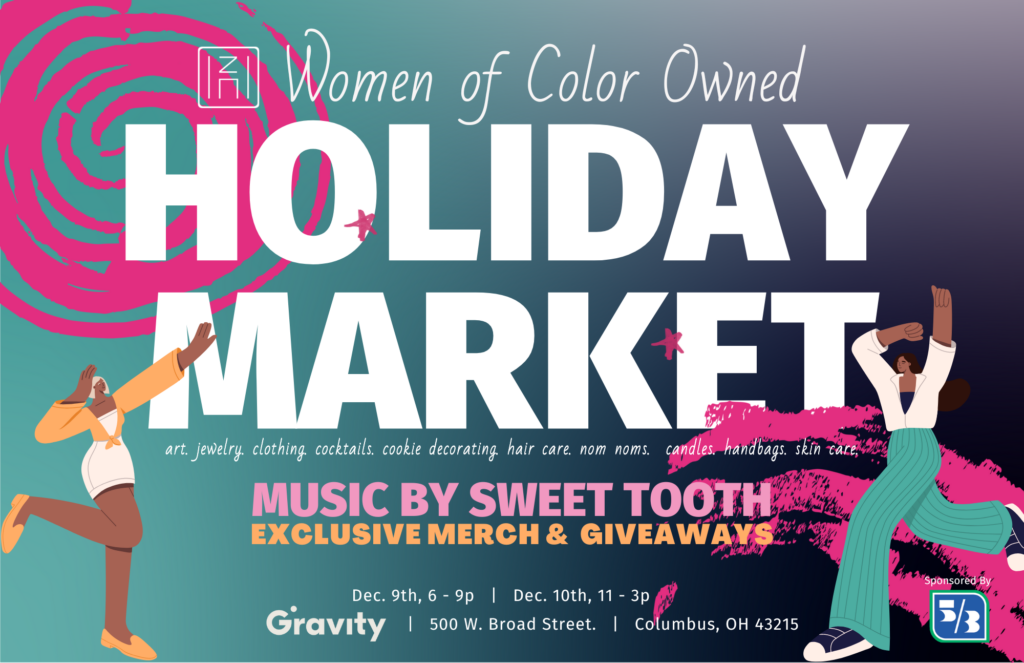 It's the perfect stop-over to shop small after you pop into the Land-Grant taproom to get your hands on our Zora's House collaborative brew, which we'll be serving up with a free poster and tea cake while supplies last.  Learn more about our partnership with Zora's House and how this delicious Franklinton Friday collaboration came together in the details below.
The ABCs: The Art, The Beer, The Cause
The Art: 
The Zora's House collaboration, which is our December Franklinton Fridays Benefit Beer, has a label featuring artwork by Columbus-based artist Raeghan Buchanan (@peppermint_raygun) and poetry by Fariha Tayyab (@fariha.tayyab). The label is derived from a mural Raeghan created for Zora's House that features a profile of author and activist Zora Neale Hurston, for whom Zora's House is named. Posters featuring the artwork and poem will be available at Land-Grant starting Friday.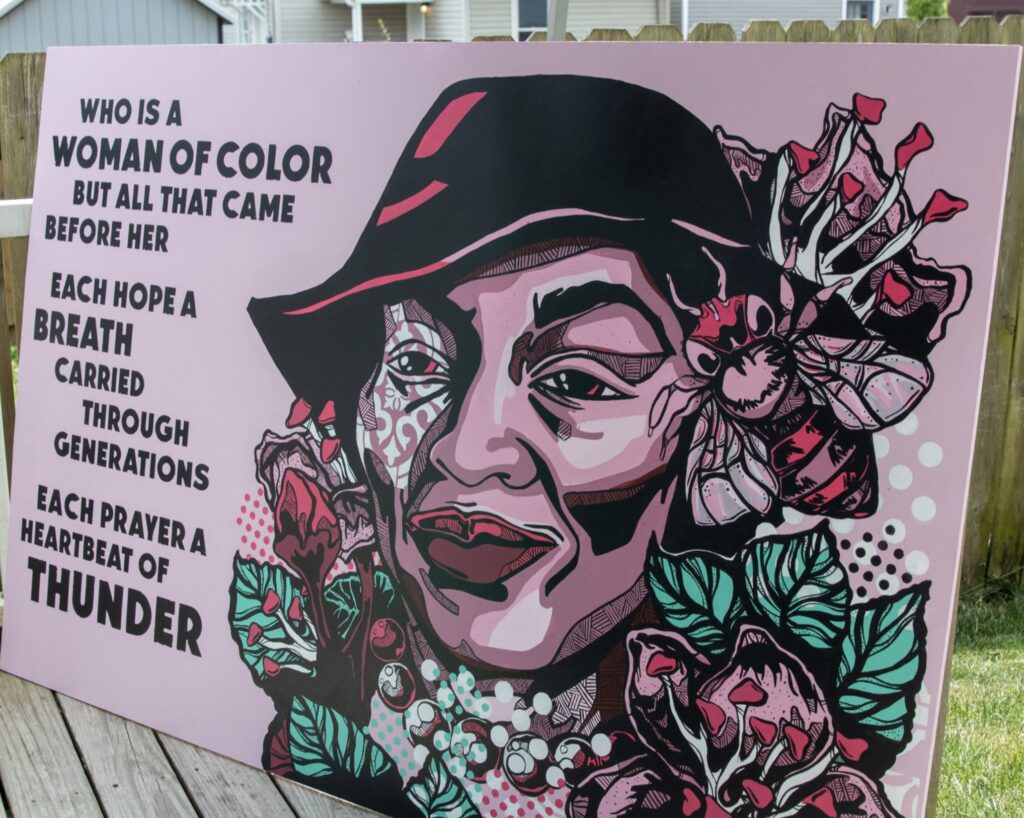 The Beer: 
Members of the Zora's House team joined our head brewer, Dan Shaffer, in brewing this month's Franklinton Friday release – a tasty Milk Stout with Cocoa Nibs and Orange Peel. While we often brew some unique styles or flavor combinations with our small-batch Franklinton Friday beers, the decision to brew this style was a thoughtful one. Southern-style tea cakes (which are more akin to a cookie rather than a cake) tend to be relatively simple in flavor so as to pair well with a cup of tea. Additionally, southern-style tea cakes are often served at Zora's House functions, as they are featured in several of Zora Neale Hurston's literary pieces – including the character Tea Cake in her novel Their Eyes Were Watching God. It was with this inspiration in mind that the team opted to brew a complementary beer to tea cakes, which resulted in the development of the recipe for this sessionable milk stout with cocoa nibs and orange peel.
To bring the inspiration full-circle, on Franklinton Friday, the beer (which will be available on tap and in six-packs for carryout) will be served with a free tea cake from Deez Cookies (a Black woman-owned, home-based bake shop here in Columbus) and a free poster of the label design, while supplies last. Additionally, Land-Grant will be donating $1.07 of every Taproom pint and carryout six-pack sold of the collaboration brew to Zora's House, in honor of Zora Neale Hurston's birth date of January 7, (1891).
The Cause: 
Located in Weinland Park, Zora's House – which has served more than 3,000 women since its founding in 2018 – is so much more than a co-working space. Zora's House has created a supportive community that connects, empowers and elevates women of color through events, programming and networking to not only do their best work, but also live their best lives.
When it comes to memberships, Zora's House adopts a pay what you can entry tier that can be adjusted and flex just as a member's circumstances might. This "meaningful investment model" allows for their members to determine how much they are comfortable committing to monthly (with a suggested membership fee of $40/month) – and lets them contribute accordingly. 
"We live at the intersection of two marginalized identities…that of being a woman and a person of color," said Johnson. "We face unique challenges that aren't an issue for other people. We are building a dedicated space with the sole purpose of ensuring that women of color thrive."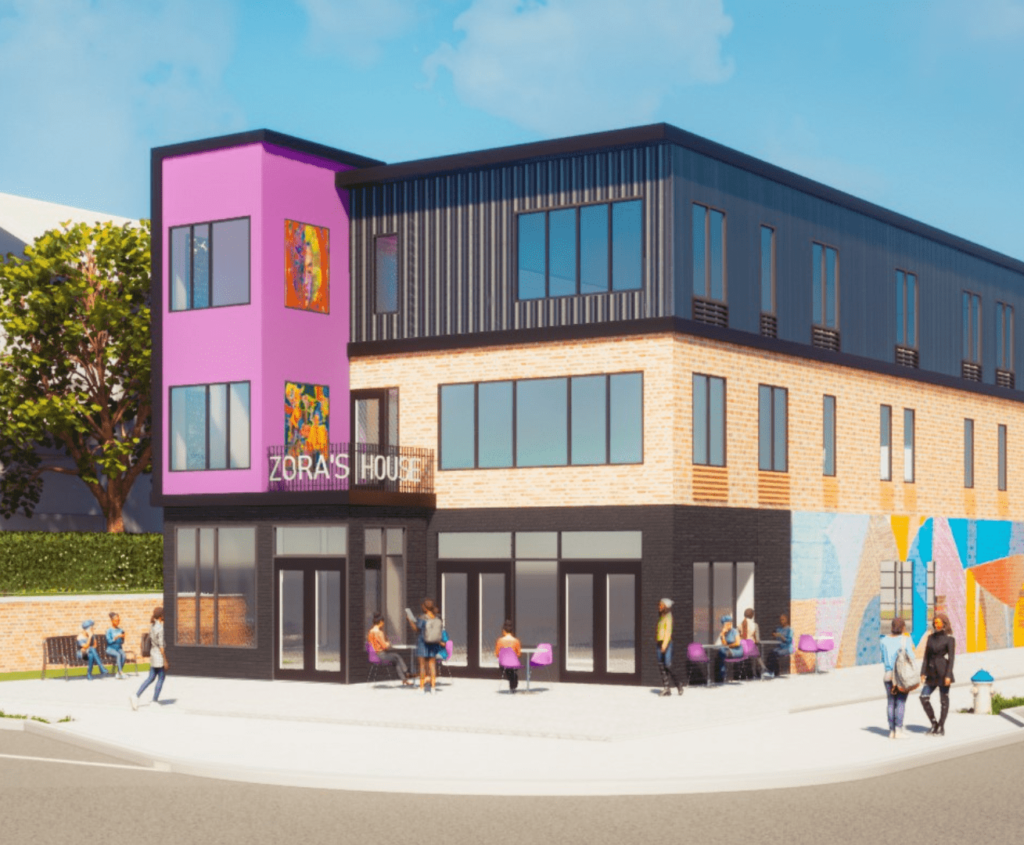 And building, they are. Zora's House's Making Space Campaign is investing $1M in capacity building funds, as well as building a $5M, 10,000-square-foot community hub that will serve as a center for leadership, innovation, and empowerment centering women of color. It will also act as a community-led economic development engine for Black, Latina, AAPI, Indigenous and other women of color across Central Ohio. To learn more, or to donate toward the Making Space campaign, please visit: https://makingspace.zorashouse.com/
ABOUT FRANKLINTON FRIDAYS
On the second Friday of every month, businesses and galleries in our Franklinton neighborhood open their doors to encourage visitors to come to the Franklinton Arts District and experience all of the creativity and talent that surrounds us. During the warm weather months, the Land-Grant Beer Garden stage hosts the Franklinton Arts District's Summer Series – which includes a featured musical act that performs on Franklinton Friday, and highlights a local visual artist whose work is featured at an exhibit hosted by our neighbors at Side Hustle Syndicate, as well as on a label of our beer. We release these Franklinton Fridays Benefit Beers to help showcase the talented local artists through a unique medium while building awareness of the incredible work that's happening all around us in our community.