Franklinton Fridays
Franklinton Fridays – a monthly neighborhood-wide celebration of the abundant art, culture and businesses here in our community – are one of Columbus's most unique and vibrant experiences. Held on the second Friday of each month, area businesses and galleries open their doors to encourage visitors to come to Franklinton and experience all of the creativity and talent woven into the fabric of this neighborhood.
Benefit Beers // The Label Art
In conjunction with this celebration of the art and creativity within our community, we release a new Franklinton Fridays Benefit Beer featuring the artwork of a local artist each month. Exclusively available at Land-Grant, these custom-designed Franklinton Fridays Benefit Beer labels adorn cans of our Experimental Series brews (available in both single cans and six-packs to go) for local visual artists to showcase their talent and build awareness of their work.
The ABCs // Artist Behind the Can
Our December Franklinton Fridays Benefit Beer label was created by Angela Stiftar, who is best known locally by her business name – Midwest Mermaid.
"To me, the midwest signifies friendliness and family," Angela said of her brand's inspiration, "I also have a whimsical love of mermaids, which symbolize beauty, courage, adventure, and folklore. Add those values together, and there you have it – Midwest Mermaid was born!"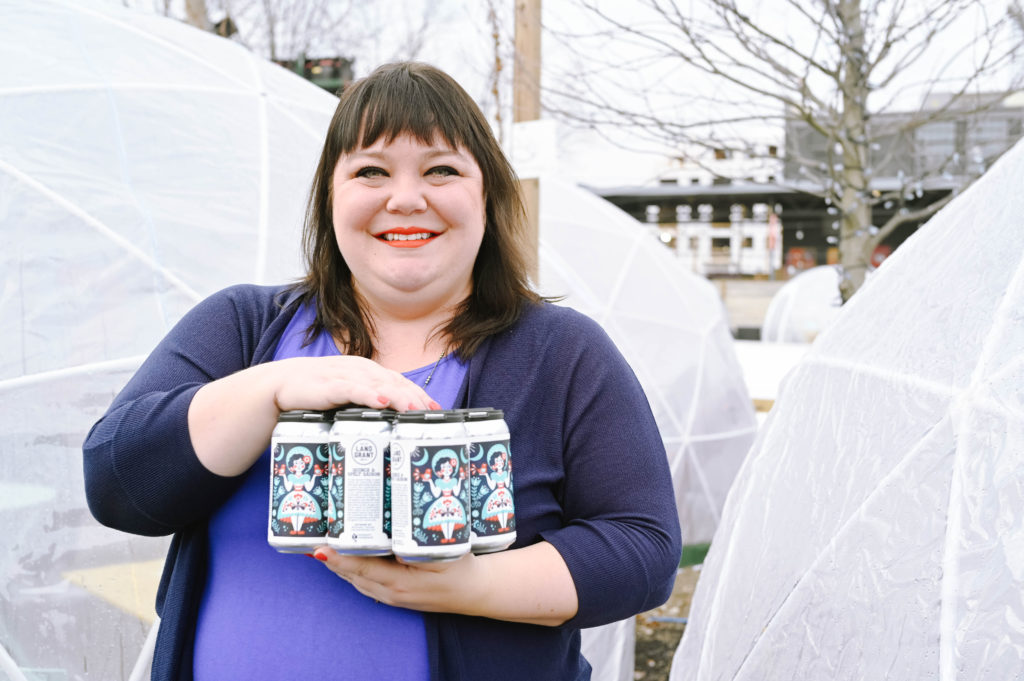 By day, Angela works full-time as an environmental graphic designer for COhatch, where she designs murals and graphics for the new coworking spaces the company continues to open nationwide. During the evenings, you can usually find her inside her Franklinton studio in the 400 West Rich building, where she's often drawing, carving, or printing new designs.
Angela discovered her passion for printmaking about five years ago, a skill she's taught herself through patience, trial, and – in her words – (lots of) error.
"Printmaking is the perfect compliment to my computer-based design career," she said. "The therapeutic process of carving the blocks is my favorite part; not having an easy undo button forces me to slow down and enjoy the creativity."
Over the last four years that Angela has had her studio, she has loved being a part of the Franklinton Arts District community, which made this label design extra special to her.
"I especially love [Franklinton] during Franklinton Fridays when I get to open up my 'second home' to strangers, and share my passion for printmaking with anyone who will listen," she said. 
When it came to creating a design for this month's Franklinton Fridays Benefit Beer label – Angela knew she wanted to lean into the graphical elements of Scandinavian folk art, which have always been a source of inspiration for her.
Dating back to the Middle Ages, in the post-viking era,  Scandinavia became a land of farmers, influencing the folk art to be peaceful nature-related patterns," Angela said. "Pieces are full of flower, bird and human motifs, often referring to Scandinavian tales, legends, and fables. I feel that many of those elements are holiday-esque because of the region's various seasonal customs around Christmas, so I went with this overall look and feel for this design."
Though much of her work is often in black and white, the label design Angela created actually incorporated three colors – navy blue, light blue and red. This means that the three colors in the design are all from three individually carved blocks that were carefully aligned and layered on top of one another while retaining the handmade characteristics.
Be sure to stop in to the Taproom tomorrow night during Franklinton Fridays for the opportunity to meet and chat with Angela and view more of her work. She'll have several prints for sale, and you can get your hands on her beer label design tomorrow, as well, with the release of our Quince & Spelt Saison.
Can't make it down tomorrow night, but want to show your support? You can browse the Midwest Mermaid's online shop for blockprints, candles, stickers, and illustrations to make perfect holiday gifts.