We here at Land-Grant are delighted to be partnering with the Stonewall Family Pride Network to come together and host a Family Pride Event throughout our Beer Garden this June. This ticketed fundraising event will include a morning of family-friendly activities, vendors and food trucks, as well as songs and stories from Columbus's own celebrity drag queen, Nina West.
The Family Pride Event will be hosted Saturday, June 26 from 9 a.m. to noon outdoors in our Beer Garden, located here in East Franklinton. Stonewall Columbus will be selling limited table reservations, with all proceeds benefiting their Family Pride Network program.
"We are thrilled to continue our Family Pride Network programming by celebrating Pride with LGBTQ+ parents as well as parents with LGBTQ+ children. While keeping safety and comfort of all guests in mind, we are thankful to have great partners like Land-Grant open up their space for this celebration and to partner again with Nina West to celebrate everyone that makes up our LGBTQ+ community."

Densil Porteous, Executive Director of Stonewall Columbus
From fundraisers and movie nights to live music and trivia – we love how our Beer Garden has evolved into a gathering place for the Columbus community and represents our brewery's 'All Welcome' mentality. We are really grateful to partner with Stonewall Columbus to host an event that creates a space for families to safely come together to celebrate Pride, not to mention – we are thrilled to welcome the iconic Nina West to our stage!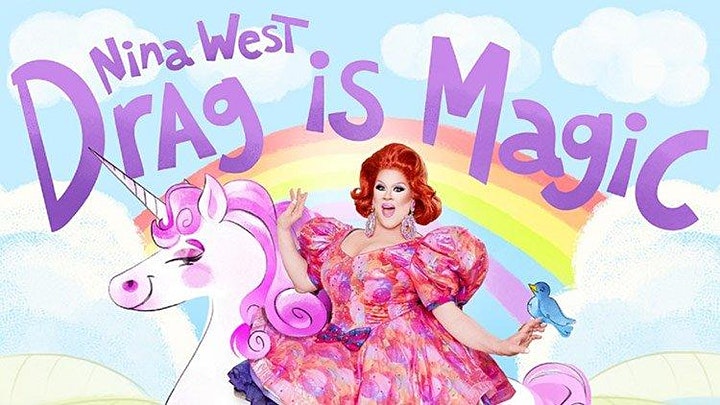 Nina West, beloved Columbus drag queen and RuPaul's Drag Race alum, released a children's EP in 2019 called "Drag is Magic" – featuring a collection of songs created for kids about love, acceptance and the art of drag. In addition to performing several of these kid-friendly singalongs, West will also host a "Story Time with Nina" segment, reading children's stories to the crowd during the Family Pride Event.
Tickets for Table Reservations to the Family Pride Event can be purchased by the public starting Wednesday, June 9 by visiting the link below.
Land-Grant Pride Shirts: Additional Pre-Orders Now Available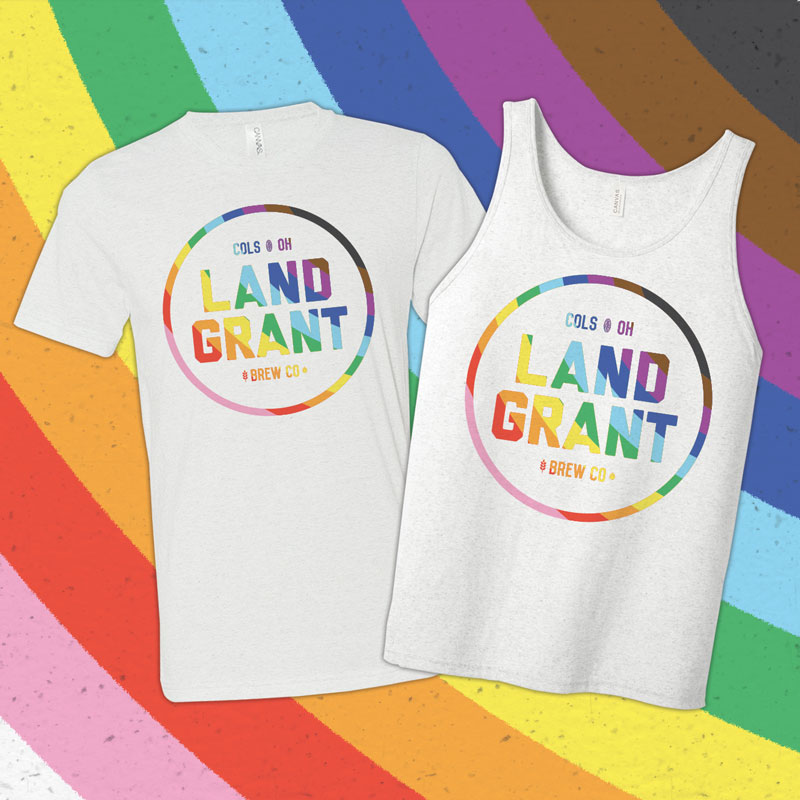 Due to popular demand, we'll be running a second round of pre-orders for our fundraising Pride t-shirts and tanks. 100% of the proceeds from these shirts will be donated to support two fantastic LGBTQIA+ organization in Columbus. We'll continue donating to Kaleidoscope Youth Center, who provide a safe space and resources for the LGBTQIA+ youth of Columbus, and also lend additional support to Stonewall's Family Pride Network, for their work to connect and support children, families, and prospective parents in the LGBTQIA+ community through social events, educational programs and professional resources.
Please note: We will be accepting Pride shirt orders in this second round of pre-sale until June 30. These orders will be available for pick-up, shipping or delivery starting the week of Monday, July 19.