Franklinton Fridays
Each month, we are part of a neighborhood-wide celebration of the abundant art, culture and businesses here in our community as part of Franklinton Fridays. Held on the second Friday of each month, area businesses and galleries open their doors to encourage visitors to come to Franklinton and experience all of the creativity and talent that surrounds us.
Benefit Beers // The Label Art
In tandem with this celebration of the art and creativity within our community, we release a new Franklinton Fridays Benefit Beer featuring the artwork of a local artist each month. Exclusively available at Land-Grant, these custom-designed Franklinton Fridays Benefit Beer labels adorn cans of our limited edition brews (available in six-packs to go) for local visual artists to showcase their talent and build awareness of their work.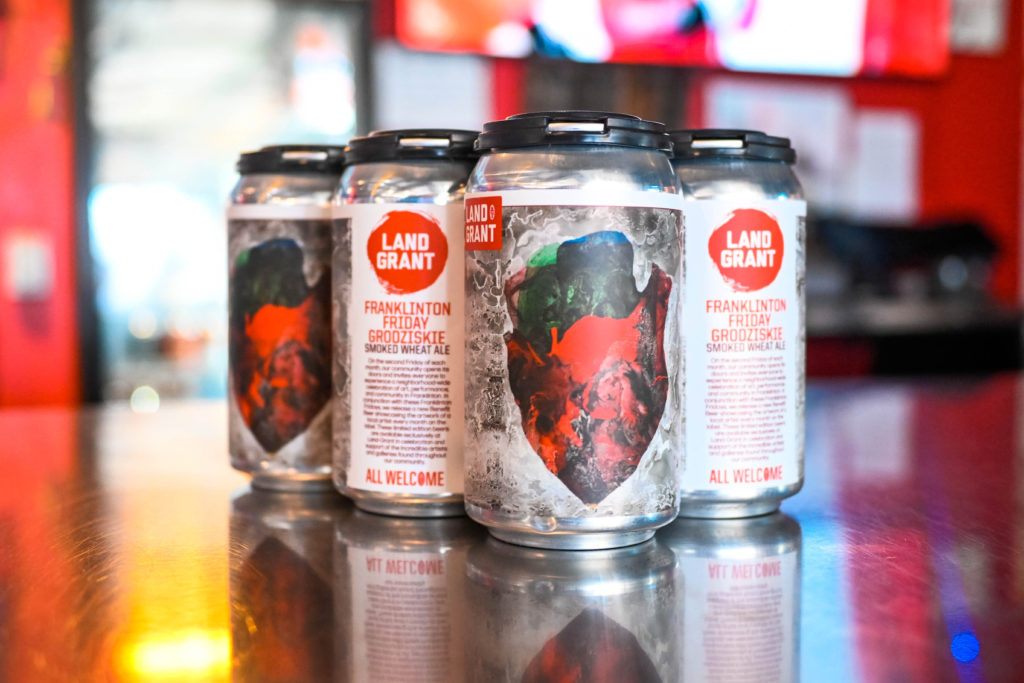 The ABCs // Artist Behind the Can
Our featured February Franklinton Fridays Benefit Beer artist is Franklinton's Michael Bush. Michael – a self-taught contemporary abstract artist – is represented by Hayley Gallery in New Albany, and has been selected to participate in many juried shows in and around Ohio, including Art for Life and the Ohio State Fair Professional Division.
Michael said that it was later in his life that he came to discover his passion for art – which started through art therapy. He creates his pieces by applying acrylic paint, water and spray paint to create the fluidity in his work that mimics the fluid nature and emotional journeys of our lives. 
"[My art] was something that started as a practice to help alleviate stress and anxiety," Michael said. "I was able to grow it into a career through the help of some amazing art mentors, and I have grown as an artist over the years due to working in such a collaborative, supportive and loving arts community here in Franklinton."
Michael has been part of the Franklinton community since 2009, when he started volunteering with the Franklinton Arts District. By December 2011, he moved his studio into 400 W. Rich and then by 2017, had moved into a home in Franklinton. Michael currently serves as the Board President for the Franklinton Arts District Board of Directors, and has served as co-chair of the Scrawl Mobile Mural festival. He's a friendly face around the Land-Grant Taproom, and we're excited to showcase his work on our February Franklinton Fridays Benefit Beer label.
For his label design, Michael chose to use a very personal painting, his  "It Beats For You" Mixed Medium – which he created in 2017.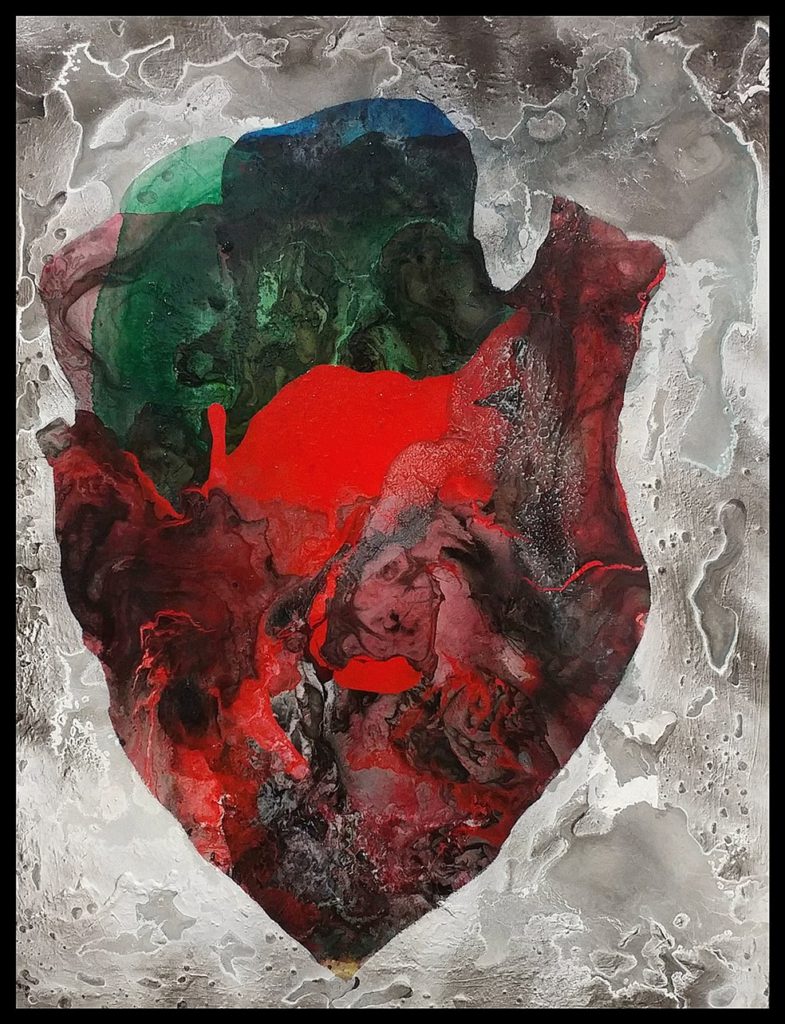 "This is the painting I did after my mom died, and I did it as a tribute to her," Michael said of this piece. "My heart wouldn't be beating if it wasn't for her, and this image has evolved to represent so much more."
Michael's design is found on cans of our limited edition Grodziskie Smoked Wheat Ale, which releases today. Be sure to stop in to the Taproom tonight during Franklinton Fridays to pick up a six-pack and for the opportunity to meet and chat with Michael and to see more of his work. He'll have several pieces on display.
If you can't make it down tonight, but want to show your support – Michael's work is proudly represented in the permanent collection of the Schumacher Gallery at Capital University, and he is excitedly preparing for a new show coming up in April at Secret Studio in Franklinton. You can also browse Michael's available works for purchase online through his website at EmptyBushArt.com.