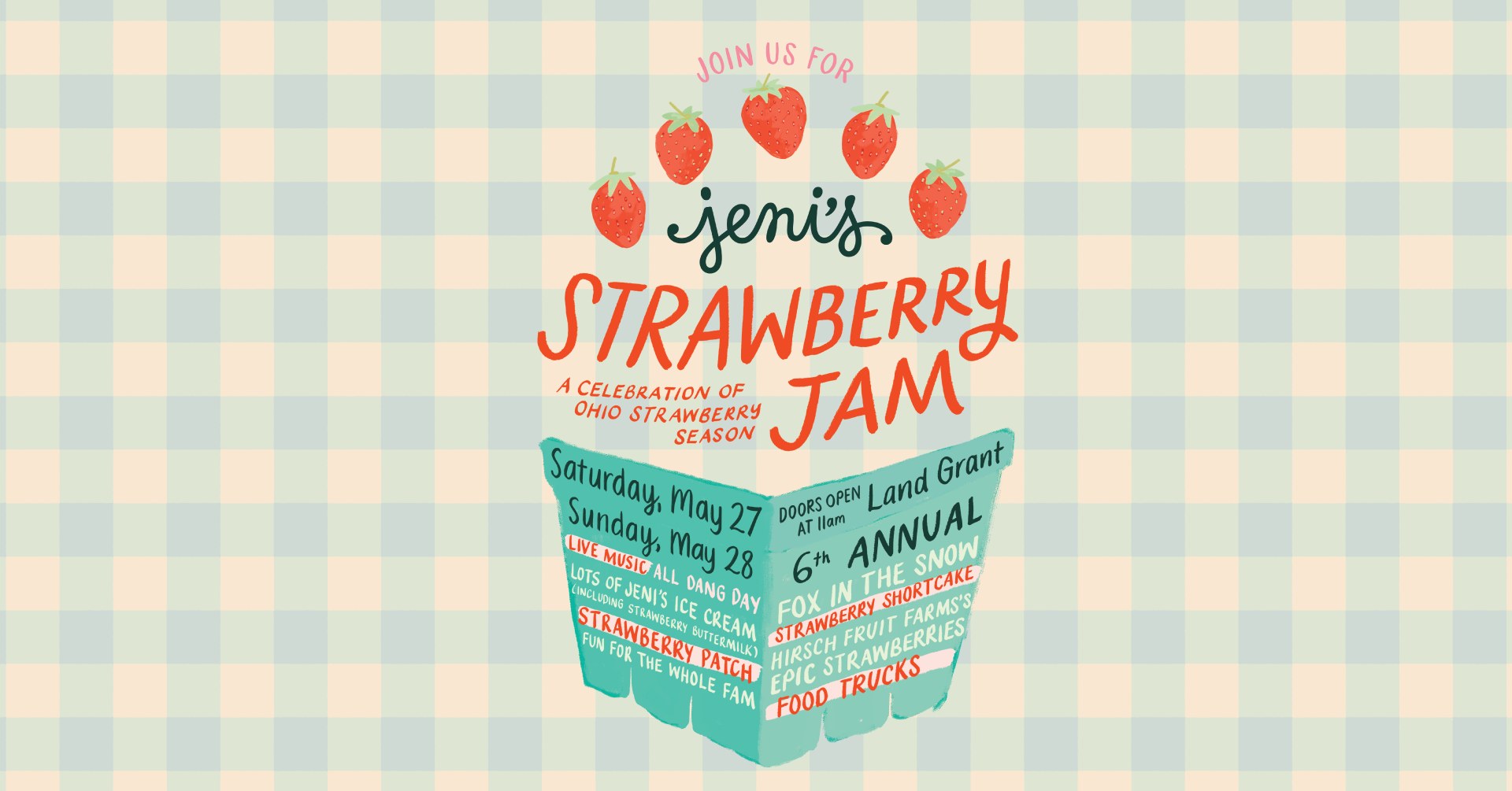 Come Jam With Us Memorial Day Weekend! 
We're are thrilled to annouce that we're not only teaming up with Jeni's Splendid Ice Creams again to celebrate Ohio's strawberry season and the annual release of Jeni's Strawberry Buttermilk ice cream – but this year is going to be our biggest collaboration to date! The sixth annual Jeni's Strawberry Jam – a bubbling, two-day festival and community event to kickoff summer – is not only returning to our Franklinton Taproom & Beer Garden, but is also taking over Town Street this Memorial Day weekend. Additionally, we're realeasing our sixth collaboration beer, Splendid Strawberry Rhubarb Ale, today ahead of the event – which will start at 11 a.m. on both Saturday, May 27th and Sunday, May 28th.
Jeni's worked with us on this year's rendition of Splendid – a bright, fruit-forward ale with maximum drinkability in mind. With its low bitterness and soft mouthfeel, Splendid is a refreshing fruit beer with a harmonious balance of aromas and flavors, ensuring a truly enjoyable and easy-drinking experience that leaves you craving more. Our Taproom will have Splendid Strawberry Rhubarb Ale available on draft and in 12 oz. six-packs for carryout – which are also hitting local grocery stores shelves this week leading up to Strawberry Jam and will be highlighted during the weekend-long event.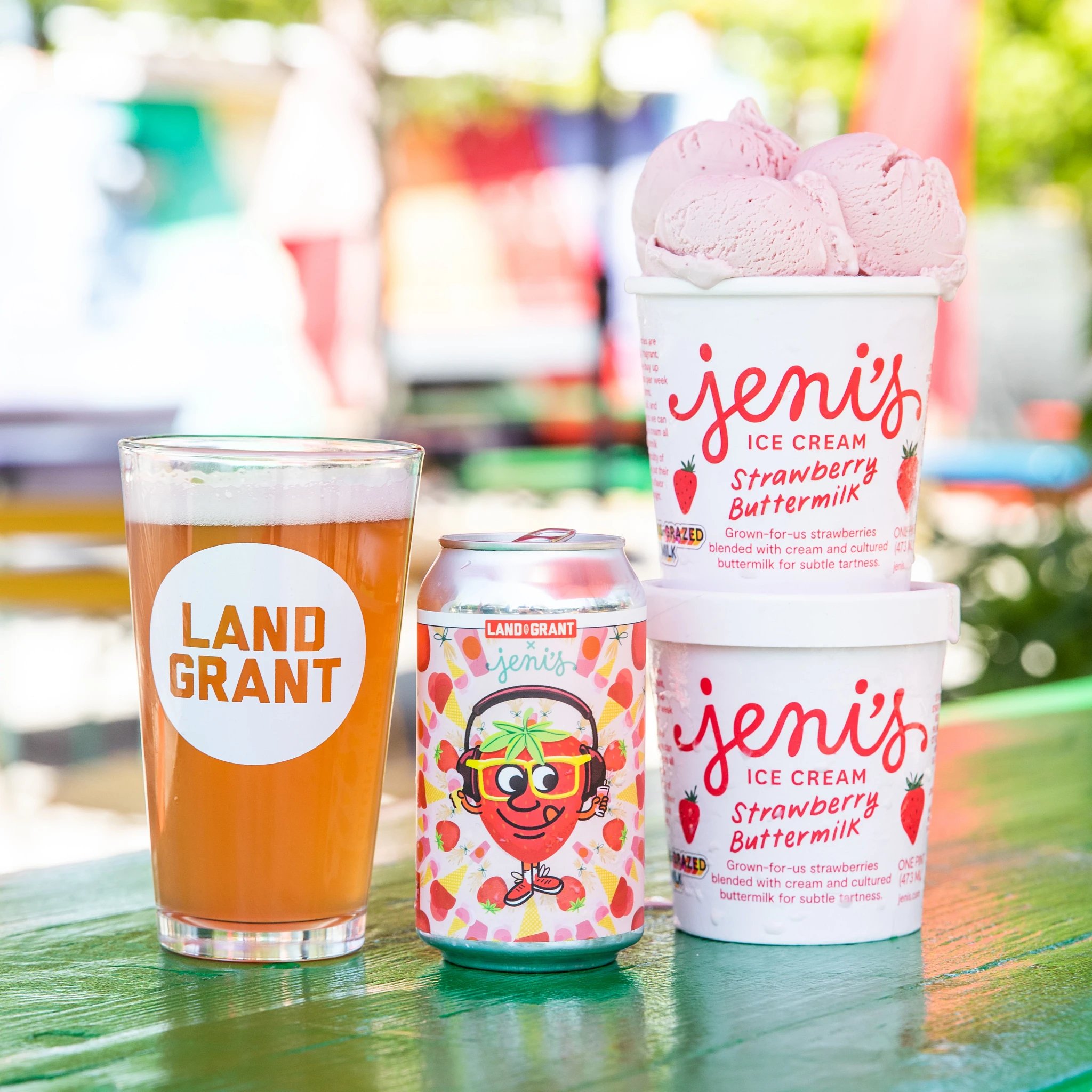 "We are beyond thrilled to, once again, be collaborating with our good friends at Jeni's," said Land-Grant Co-Founder and Creative Director Walt Keys "Each year our partnership has grown tighter and stronger, and we've been able to grow Strawberry Jam into the true launch of summer in Columbus; this year will be the biggest and best yet."
This year's Strawberry Jam will incorporate several new community partners – including Columbus Metropolitan Library, COSI, Columbus College of Art & Design and Good Land Brand – who will be offering kid friendly activities and hands-on experiences from 11 a.m. to 4 p.m. each day in the "Strawberry Patch" kid's area. Our outdoor stage will also feature family-friendly experiences and performances both days until 4 p.m., with additional live music throughout the Beer Garden the rest of each evening.
The event also celebrates Ohio farms who produce thousands of pounds of strawberries each year; berries that Jeni's folds into its classic springy and bright Strawberry Buttermilk ice cream. Jeni's longtime partner Mike Hirsch of Hirsch Fruit Farm in Chillicothe, Ohio, will have fresh strawberries on-site that attendees can purchase.
In addition to the beer and ice cream, this year's Strawberry Jam will feature several local vendors until 6 p.m. each day, including The Tart Peach, Prospect Jam Co., Unpopular Pottery, Zora's House and Igloo Letterpress.

Strawberry Jam attendees can also experience strawberry-inspired menu items from all of the food truck partners – including Ray Ray's Hog Pit, Dodo Donuts, Two Fatt Indians, Tortilla Street Food, The Angry Weiner, The Naughty Lobstah and The Forking Pierogi. Fox In The Snow will also bring back its highly regarded event-exclusive strawberry shortcake, topped with Jeni's ice cream.

For the full Strawberry Jam event details – including the entertainment line-up, map, activities, vendors and parking – please visit: https://landgrantbrewing.com/jenis-strawberry-jam/ and follow #JenisStrawberryJam on social media.