We're proud to partner with the Franklinton Arts District for the return of the Franklinton Friday Summer Series, where our Beer Garden stage is home to live local music on the second Friday of each month through September. These shows are free to the public in conjunction with Franklinton Fridays, and serve as an opportunity to showcase immensely talented local musical and visual artists.
Each month, we also release a limited-edition benefit beer that features the artwork from a local visual artist; a portion of the beer's proceeds are then donated back to the Franklinton Arts District to support the art and artists in our community. Concurrently, our partners at Side Hustle Syndicate host an exhibit of this feature visual artist at the Side Hustle Gallery inside the Columbus Idea Foundry during Franklinton Friday.
PRIDE is the theme of this month's Franklinton Friday Summer Series, and our Franklinton Friday Benefit Beer – which released on Friday, June 10, is a Blueberry Mosaic Tart Ale, featuring the artwork of DXTROSE.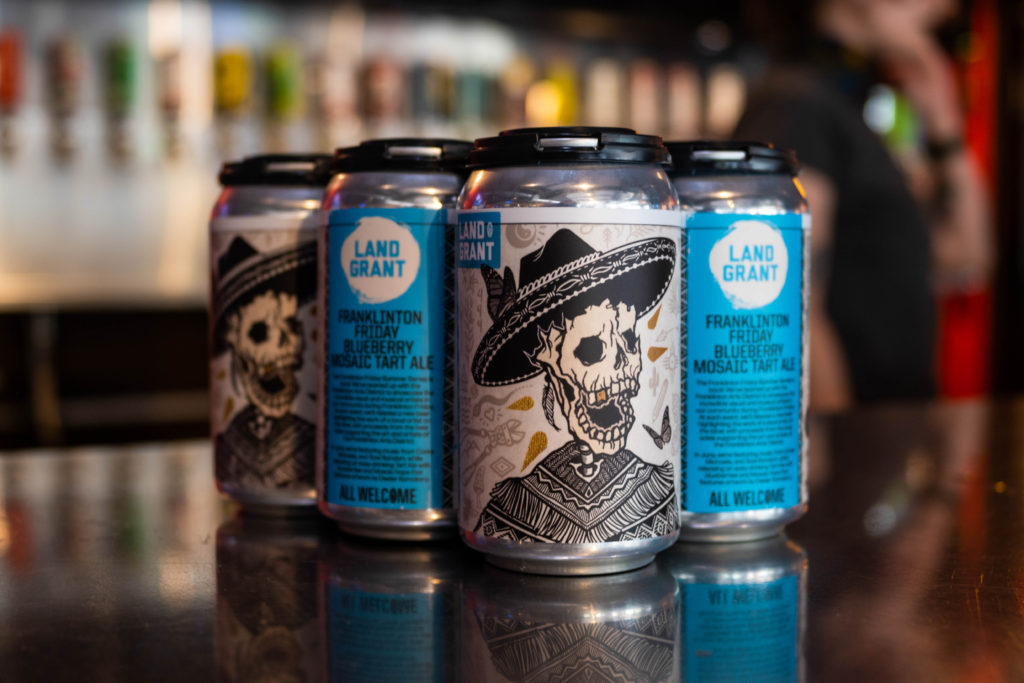 Meet the June FFSS Feature Artists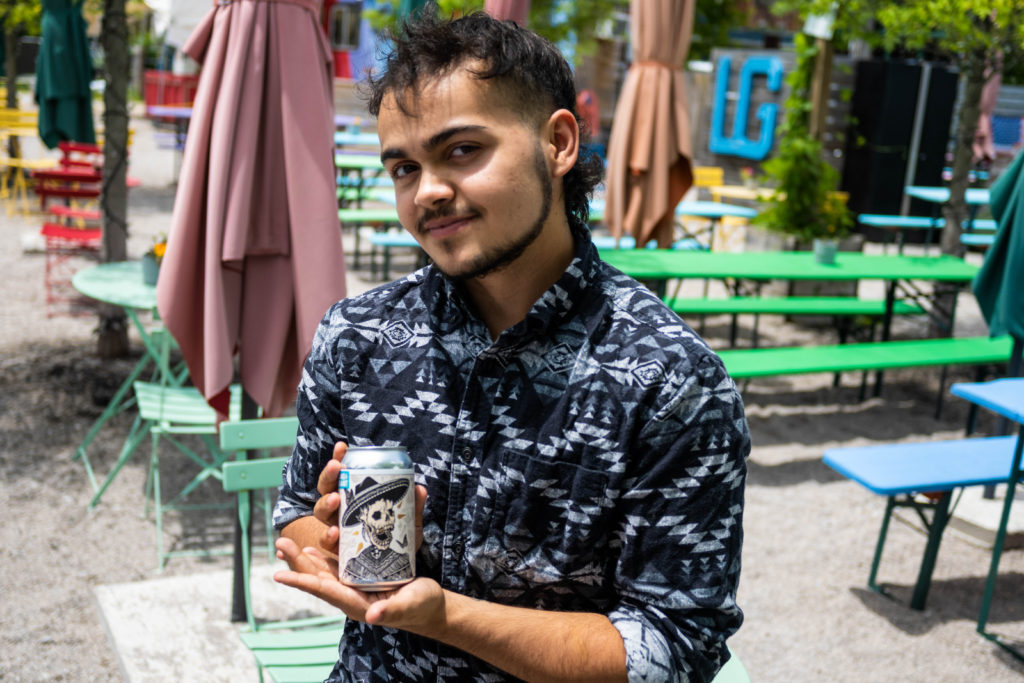 What's your background & how did you get into your art? 
DXTROSE: Outside of maxing out all of the available public school classes in high school related to art and art history and a 2-year Art Portfolio concentration at the Fort Hayes Career Center, I never had a formal arts education. I've always liked to say that one day when I was young I just "picked up a crayon and never put it back down" because I never want to discount the hard work and nonstop hours I've put into my work so far, but I also come from a family of dreamers and creatives. Before I knew words I knew symbols, whether it was the letters I'd get from my mom while she was incarcerated that'd always include an illustration of something beautiful, my grandmother who made her own traditional Native American beadwork, my makeup artist sister, or my tattoo artist uncles who I'd ask to teach me how to draw, maybe just making things is in my genes. I've just always done it. 
Why is making art important to you?
DXTROSE: Over the years, I've realized the core of everything I create has come down to three main ideas: art, activism, and access. Incorporating my experience in youth leadership around community organizing, intersectional activism, storytelling for social change, I've learned the power that comes with story, and I use art to share mine. My mission is all about making my insights, experiences, and education on art and how art influences change with others by making the information, resources, and my artwork accessible. 
It's my hope that by sharing these stories, knowledge, and practices through my life and my work, that something will resonate with people who relate to the hardships I've experienced, as well as provide inspiration to other aspiring artists for disrupting systemic cycles of harm and navigating a creative practice under oppressive systems from an abolitionist and community driven lens.
What does it mean to you to participate in the Franklinton Fridays Summer Series?
DXTROSE: For me, being able to participate in the Franklinton Friday's Summer Series feels like a homecoming, and means a lot to me. As a 614 Native, born-and-raised, I grew up in extreme poverty and difficult circumstances in the neighborhood known as "The Bottoms" right between the Franklinton and Hilltop neighborhoods. Everyday after elementary school I would ride the bus to the Homeless Families Foundation's Center right across Main St. from the Franklinton Arts District. No matter how impoverished I was though, I could always find something to draw with. 
Growing up struggling, you learn how to be creative through survival, and I was able to save and create my own life through my art. Instead of viewing my life as lacking, I was able to see it more as an empty canvas I could use to draw up a creative practice that has allowed me to create my own future, career, and opportunities beyond my own wildest dreams.
To say that this opportunity means a lot to me is an understatement, especially being able to have this opportunity during Pride Month as a human of queer and transgender experience. I never had a blueprint for what surviving in this world as a person who meets so many intersections of marginalization looks like, let alone what thriving or being able to determine my own destiny would look like. This opportunity as well as the art I've put together for it I hope serve as inspiration to someone else that being able to create something so much bigger for oneself is possible for them too.
You can check out more of DXTROSE's work at https://www.dxtrose.com/, and connect with @dxtrose on Instagram, Facebook and TikTok.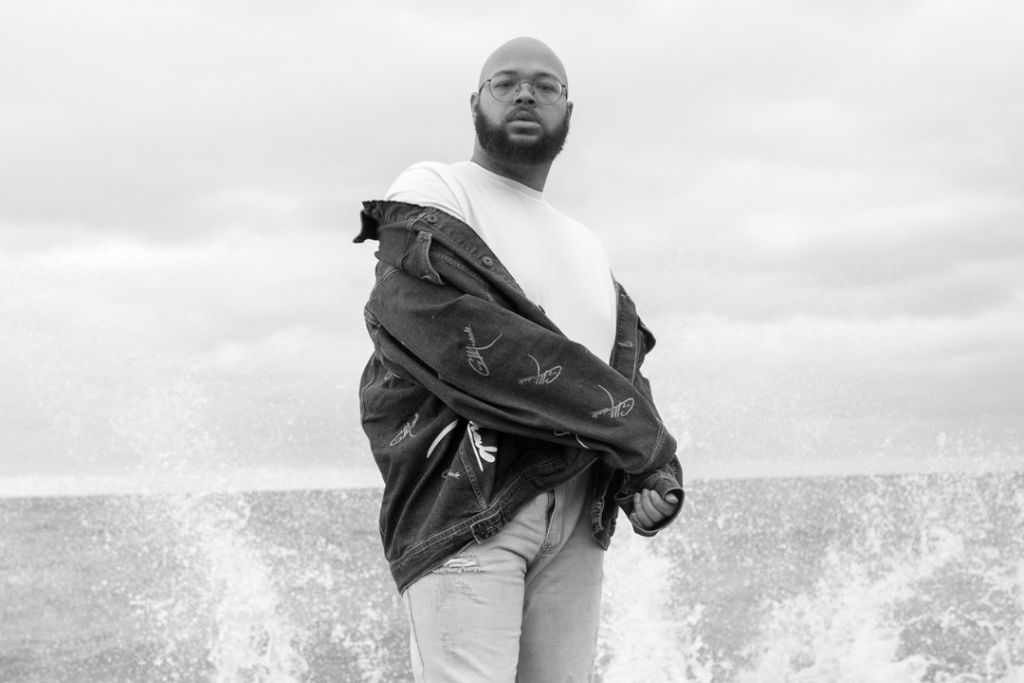 What's your background & how did you get into your art?
CORRY: I started playing piano at 8 years old. From piano, I went into dance, theater, songwriting and then singing. When I was younger I just wanted to be a songwriter. 

Name three of your artistic influences
CORRY:
Max Martin (Pop songwriting wizard)
Pop Culture (crazy moments, fads / trends, impactful changes)
Living (seeing and experiencing living life)
Why is making art important to you?
CORRY: Making art, creating is my primary form of self expression. Without this form of expression, in comparison with the amount of trauma and bad luck I've experienced – I'm not sure where I would be. I'm not sure that I would be here. 
How would you describe your art? What makes your process and approach different from that of other artists? 
CORRY: My art is a reflection of me and experiences. Although people can share similar experiences and feel similar things, there will still always that 100% unique fingerprint on whatever I say / do / touch. 
What do you want audiences to see in your art or hear in your performance?  
CORRY: I hope that my humanity shines through enough in all my facets that people see themselves through me / in pieces of me. I also want to do the same, and continue to find myself through my music.
You can check out Corry's music here, and find details about his tour at https://www.corrymichaels.com/tour. Follow him on Instagram at @iamcorrymichaels.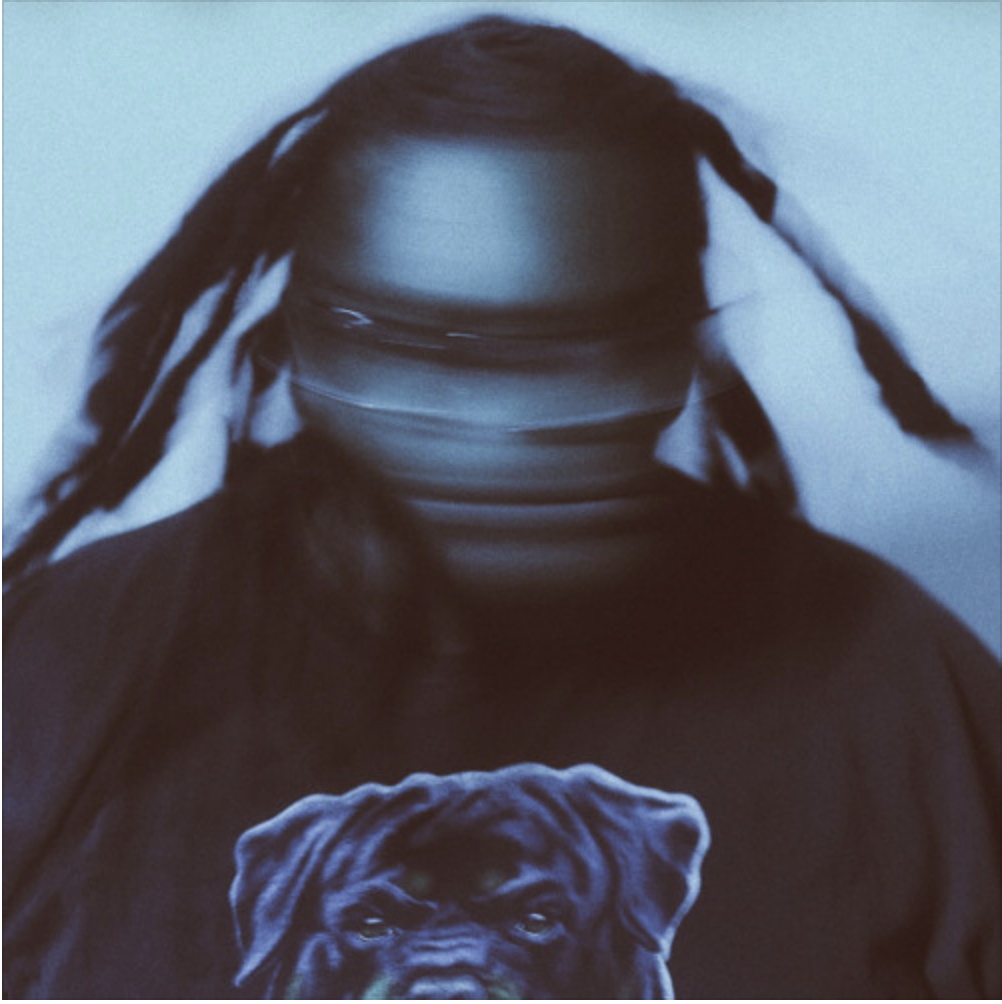 Meet our Emerging Musical Artist: Elijah Sow (SowRandom)
Twenty-two year old Elijah Sow – who goes by 'SowRandom' – is a graduate of Columbus Alternative High School who was born and raised in Columbus. He wrote and recorded his first song at 17 years old at Directions for Youth and Families, and is currently a student in the Works of Freedom Ohio program. He plays steel drums, and writes, records, and performs his own original music. He will serve as the opening act for Corry Michaels on Franklinton Friday.
Explore More of Franklinton Fridays