Franklinton Friday Music Series
In partnership with the Franklinton Arts District, our Beer Garden has become the home to the 2021 Franklinton Friday Music Series, where – on the second Friday of each month through September – we'll have live music on our stage. In conjunction with Franklinton Fridays, these FFMS shows will be free to the public and will showcase a variety of talented local musical and visual artists. In addition to the opening and headlining musical acts, each concert will also feature special performances of songs created by young students from local non-profit We Amplify Voices (WAV).
Benefit Beers // The Label Art
In addition to hosting local live music, we will be releasing a new Franklinton Fridays Benefit Beer featuring the artwork of a local artist on every Franklinton Friday. Each month, a different local artist will create a design that will be featured on both a concert poster and the beer label of one of our Experimental Series brews. Single cans and six-packs of these limited edition Franklinton Fridays Benefit Beers will be available exclusively here at Land-Grant, with proceeds from their sales going back into our community to support the art and artists of the Franklinton Arts District.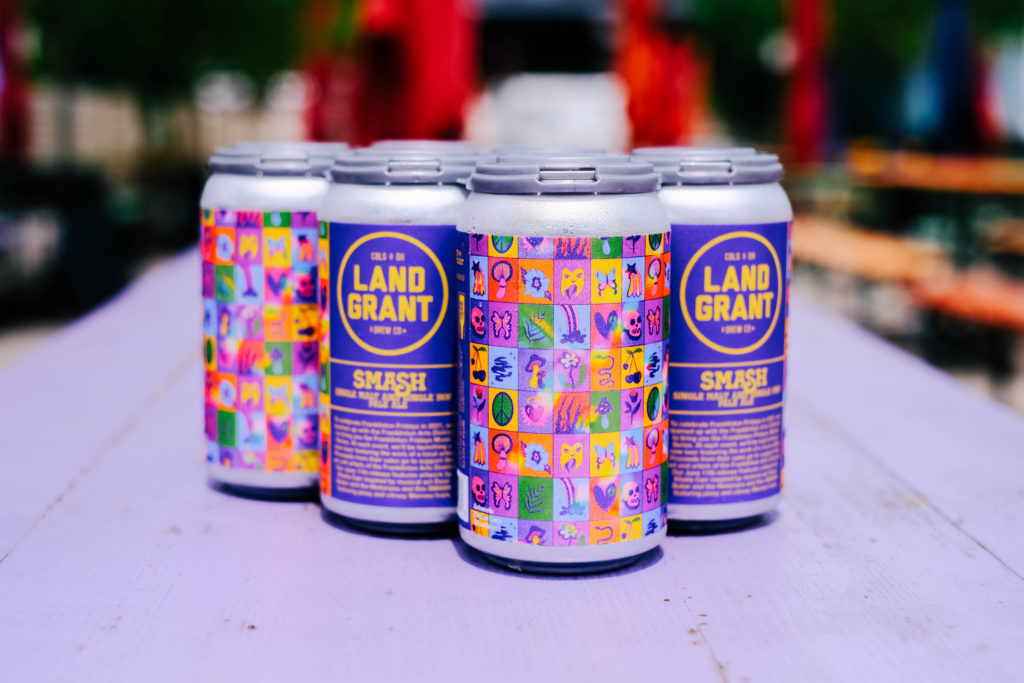 The ABCs // Artist Behind the Can
Khaila Carr – the designer of our June FFMS Benefit Beer label – is a Columbus-based artist whose work is influenced by "color, dreams, dogs, comics, love, sex, fantasy, psychedelia, animation" as well as her Filipino-American heritage. Earning her BFA in 2018 from the Columbus College of Art and Design, Khaila initially only focused her studies on Illustration, but broadened her curriculum to include Fine Arts, which introduced her to painting and other mediums within which she works today.
When conceptualizing her design for the can and concert poster, Khaila said she drew inspiration from the psychedelic roots of Bicycle Day. What began as a doodle grew into a blotter sheet-inspired pattern of icons that now adorns this Single Malt and Single Hop (SMASH) Pale Ale, paying homage to her love of color, psychedelia and teeth. (Yes, teeth!) Khaila's artist name, 2oothdust [pronounced "tooth-dust"], is how she can be found across her social channels.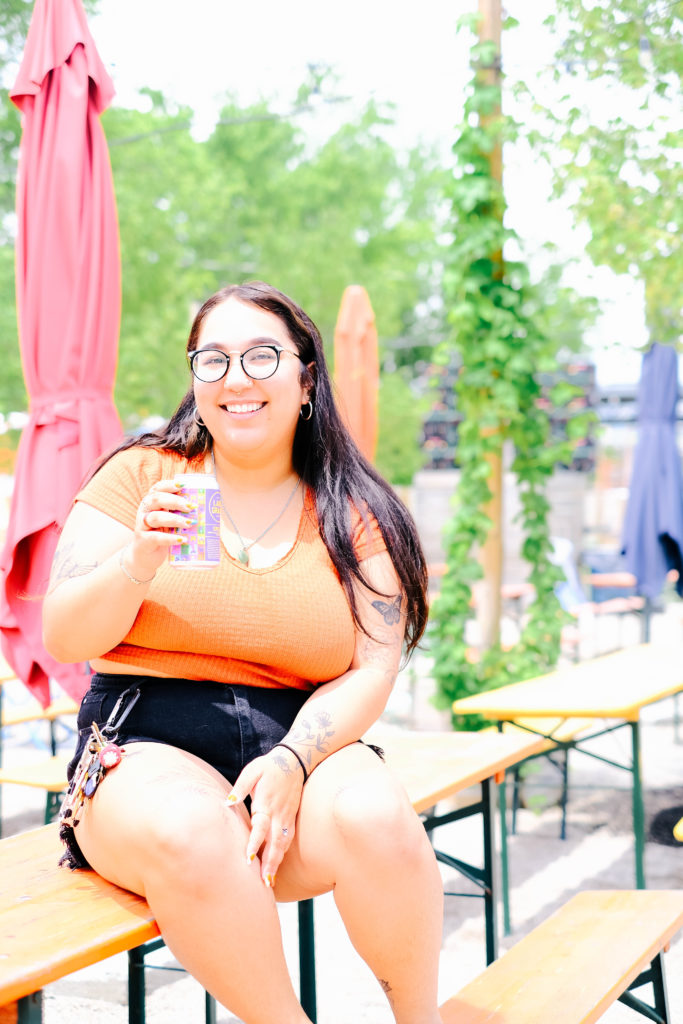 Whether she's commissioned to paint a mural, animating the alphabet, or helping small business with design – Khaila spends much of her time working as a freelance artist, putting her vision into every project she encounters.
"The more that I've freelanced, the more I've realized how much creative freedom I have within those projects, which is important to me," Khaila said. "Freelancing gives me an opportunity to touch on different mediums and allows me to stay inspired because I'm not doing the same thing over and over again. It has been a way for me to express myself creatively without having to adhere to the creative limitations sometimes associated with a more formal, corporate design role."
In order to balance her freelance business, Khaila originally planned to work part-time in a role not related to art, joining the Barkbox customer service team in 2019. She soon, however, worked her way onto their social media content team, where she didn't encounter rigid corporate parameters, but instead, now works to keep the brand on the cutting edge of the latest social media trends, memes and viral sensations – all with a dog-themed flair.
"My role with Barkbox taught me that I really like working in social media and that there are a lot of elements I can apply to my own freelance business," Khaila continued. "I could see myself ultimately moving to New York to be part of the Barkbox design team – whether it's designing dog toys or working as a graphic designer, though I'm not sure I'm ready to give up my freelance career quite yet."
When she's not busy juggling her freelance projects and creating content for Barkbox and its customers, Khaila enjoys spending time with her corgi, Opie.
Dave Buker and the Historians // The Music
This Friday, June 11, we welcome the music of Columbus-based Dave Buker and the Historians, with opening act Corey Landis and the Finer Things kicking things off at 6:30pm in our Beer Garden. Dave Buker and the Historians has been spreading its brand of Americana since 2010, taking home the top prize in CD 92.9 FM's Local Artist Contest in 2017 and opening for artists such as Spoon, Alvvays, Run River North, and The Aces. In 2019, the band released its latest full-length album, It Moves in the Dark, which is now available for download or streaming across all platforms. They also followed that album with a collection of cover songs recorded during the pandemic on its Costumes EP.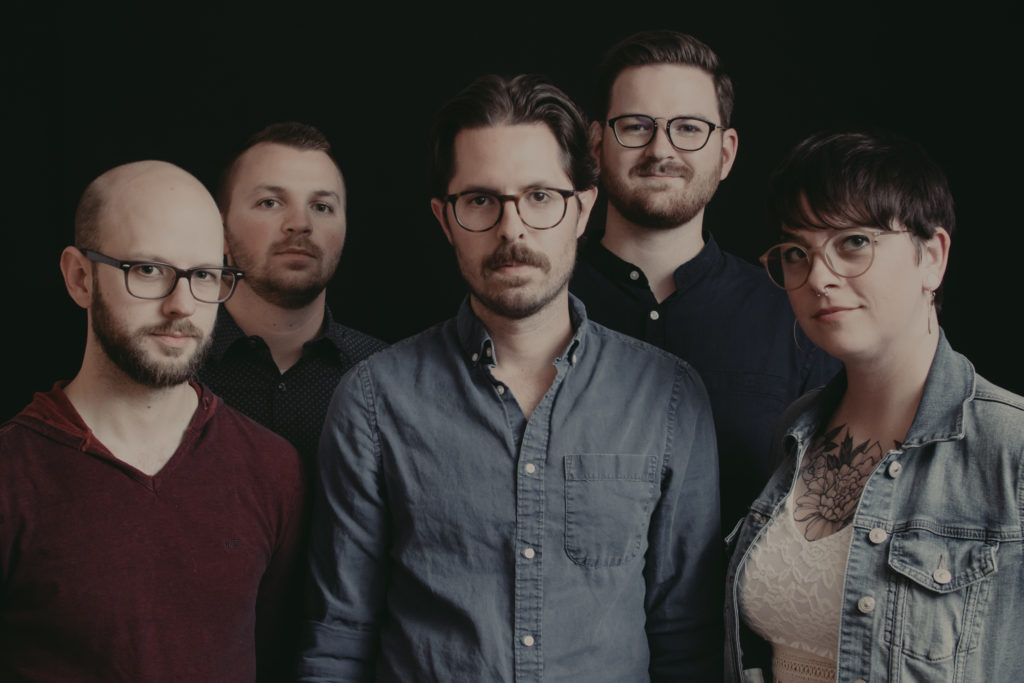 Check out the band's recent performance at The Rambling House earlier this spring and make plans to join us for a night of great music, fantastic art, and fresh local beer.