If you live in Columbus – chances are you're familiar with Pelotonia. But in case you are not – Pelotonia (founded in 2008) was established with the objective to fund innovative cancer research through a three-day experience that includes a weekend of cycling, entertainment and volunteerism. Since its founding, Pelotonia has raised over $236 million for cancer research because, thanks to its funding partners, it is able to direct 100 percent of every dollar raised by its participants to cancer research here in our community.
Supporting Pelotonia has been a priority of Land-Grant's since our first full year of production in 2015 when we brewed our first Pelotonia fundraising beer – One Goal One Rye'd Rye Pale Ale. In 2021, we evolved the Pelotonia benefit beer to a lighter, more refreshing recipe – One Goal Hazy Pale Ale – which touts a lower ABV of 4.6%, making it more desirable after a long ride.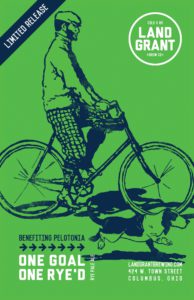 Over the last 8 years, we've hosted countless fundraising happy hours for Pelotonia riders and teams and we've brewed more than 500 barrels of beer specifically dedicated to raising funds and awareness of the innovative cancer research that Pelotonia funds – resulting in nearly $38,000 of donations and counting. However, 2022 marks the first year that Land-Grant has formed an official peloton to participate in the event, and we couldn't be more excited.
The inaugural Land-Grant Brewing peloton is made up of staff and members of the LG family – participating as a mix of riders, challengers and volunteers to fundraise for cancer research. Take a peak at a few team member highlights below to learn about why they are involved in Pelotonia, and join us in cheering them on this weekend.
Land-Grant Brewing Peloton – Rider Highlight: Walt Keys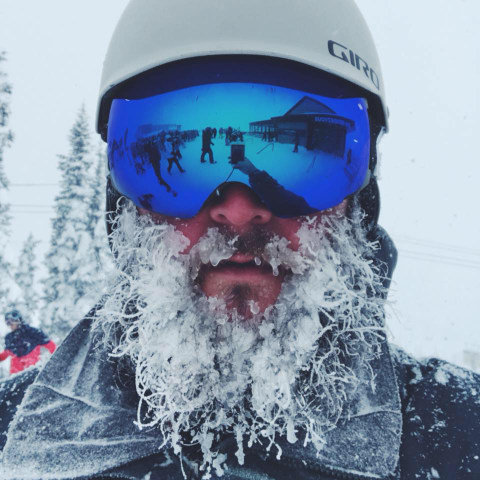 Walt Keys, Land-Grant's Co-Founder & Creative Director, will be riding in Pelotonia for the first time this year, as he takes on the 57-mile route on Saturday.

Like many people, Walt picked up cycling during the pandemic, and has been pushing himself further and further during his training – with his longest ride to date at 46 miles.

Walt said he is riding this year in honor of his mother-in-law and cancer survivor, Pat Sainz, and is looking forward to his first Pelotonia experience this year.
Land-Grant Brewing Peloton – Challenger Highlight: Chris Helderman

Chris Helderman, Land-Grant's Director of Brewing Operations, is participating in Pelotonia for the first time in the role of a Challenger. Challengers can create their own activities to raise money for cancer research rather than cycling during ride weekend.
As part of the Land-Grant Brewing peloton team, Chris set his Challenger goal to hike 50 miles with his toddler daughter, Genevieve, in backpack. Chris has already logged 10 miles, and plans to finish this fall.
Chris said he was inspired to participate because the world is so divided on so many things, but we can all agree that cancer sucks and has touched someone we care about. He said he's seen how much OSUCCC-James cares about the people they are treating, and is happy to help fund their work.
Land-Grant Brewing Peloton – Volunteer Highlight: Meredith Miles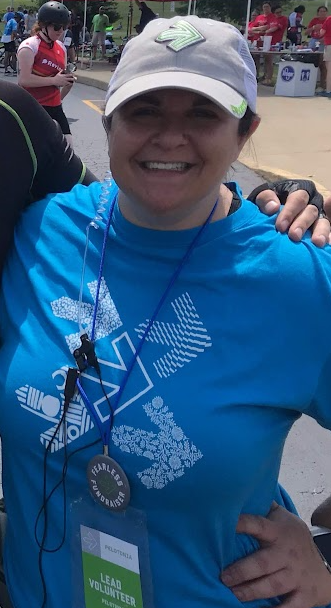 Meredith Miles, Land-Grant's Director of Communications, is participating in her tenth year of Pelotonia, and serves as a Lead Volunteer during Ride Weekend. Pelotonia's success is fueled by volunteers, as it takes more than 2,500 volunteers to make Ride Weekend happen.
Meredith said that her passion for Pelotonia stems from how much cancer has taken from so many, herself included. She lost her mom to brain cancer 11 years ago, alongside countless other friends and family (including 3 of her 4 grandparents) who have passed away from various forms of the disease. Her father, a cancer survivor, was treated at the James after his esophageal cancer diagnosis in 2004, and Pelotonia has fueled her to contribute in any way she can to support the life-saving research and treatment available here in Columbus.
Meredith currently serves as the captain of the Land-Grant Brewing peloton.
Show Your Support
You can check out all of the members of Land-Grant Brewing's peloton here, as we invite you to join us in cheering them on this weekend as they lend their time and effort for this worthy cause. If you would like to make a monetary donation to Pelotonia, you can support team Land-Grant by doing so here. Thank you for the years of support in working toward that ONE GOAL: End Cancer.