We finally had a taste of summer over the past weekend with 80º weather and sunshine…so we're gearing up to make this one EPIC summer in the Beer Garden! We are thrilled to announce that Mikey's Late Night Slice will be taking up a permanent residency in our beer garden & taproom as an anchor to our Beer Garden Season summer programming.
Beginning on May 12, the LG-based Late Night Slice truck will begin serving pizza from Thursday through Monday during our taproom operating hours, which will extend to 1:00 a.m. on both Friday and Saturday nights at that time. And contrary to its name, Late Night Slice will offer lunch and dinner services on these days, alongside the award-winning BBQ from Ray Ray's Hog Pit, which serves food to our customers Thursday-Sundays from 11:30 a.m. to 8:00 p.m.
"We've been searching high and low for the perfect home base for our truck, and I couldn't be more excited to be partnering with our friends at Land-Grant for this upcoming season," said Mikey Sorboro, founder of LNS Restaurant Group. "The synergy between Ray Ray's, Late Night Slice and Land-Grant's amazing beer garden space is going to make for an epic outdoor season."
"With so many things we love returning to the beer garden, the addition of Mikey's Late Night Slice is going to strengthen our customers' experience by allowing another Columbus institution to serve alongside Ray Ray's," said Land-Grant Co-Founder and President, Adam Benner. "We've always enjoyed Mikey's – both the pizza and the folks on their team (especially after sharing a crazy experience on a bus trip to Toronto with fellow #SaveTheCrew supporters back in 2017) – and we're excited to see this friendship grow."
Alongside the Late Night Slice partnership, we are also excited to announced the return of our free live music series in the beer garden on Thursdays at 6:00 p.m. and on Sunday afternoons as part of a "Music Market" – which showcases different local vendor pop-up shops each week. The summer music line-up – which features notable acts like Parker Louis, Good Reverend, Hebdo, and Miir – will kick off this Sunday, May 1 at 4:00 p.m. You can see the full summer lineup below.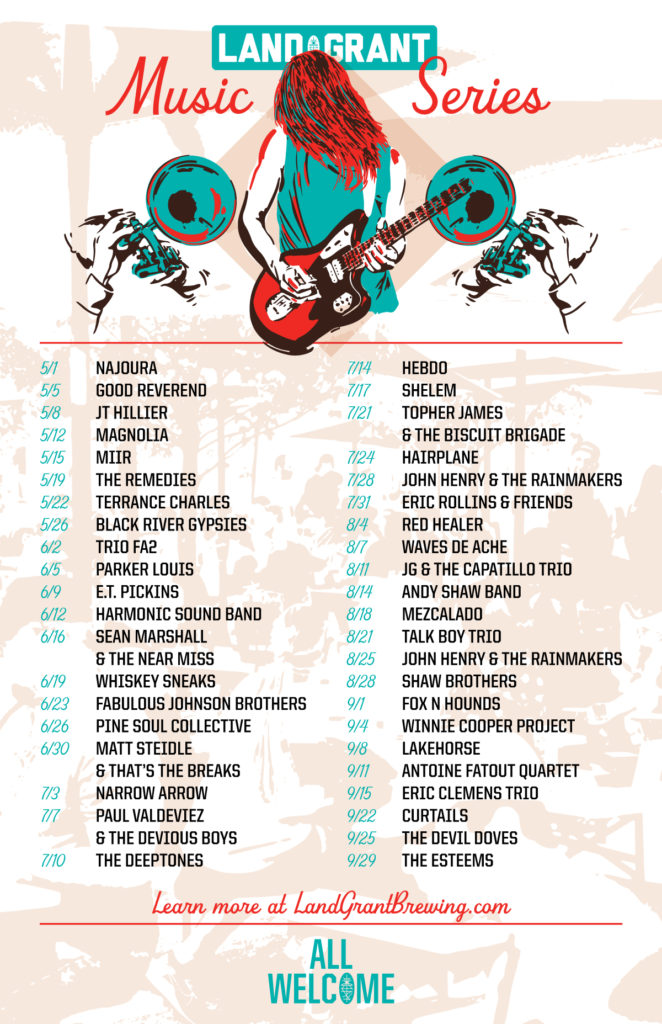 In addition to the music series, we will be hosting a combination pop-culture trivia and movie night on the beer garden big screen every Tuesday starting May 10, with films ranging from cult classics to blockbuster hits. Also starting in May, Friday nights at Land-Grant will feature "All Are Welcome" – a D.J. series curated by The Freshest Events. In June, we will have a Monday night cornhole league (beginning June 6) and Modo Yoga will offer pop-up yoga classes on Saturdays the turf area of our beer garden. We will also play host to Formula 1 grand prix watch parties on various Sunday race days throughout the summer and fall.
Just in time for all of this summer fun (perhaps the best news of all?) – parking here in East Franklinton will soon be improving, too! The city of Columbus is slated to open a 1,400 spot parking garage on June 1, just east of Land-Grant as part of the Scioto Peninsula project.
For the full Beer Garden Season programming – including specific musical acts, movies, dates and times – please visit: https://landgrantbrewing.com/beer-garden-season/.