Franklinton Friday Music Series
While the last official date of the 2021 Franklinton Fridays Music Series was last month, we're excited to offer one more bonus night of live music during the October Franklinton Friday on our Beer Garden stage. In partnership with the Franklinton Arts District, we've hosted free live music on our Beer Garden stage the second Friday of each month in conjunction with Franklinton Fridays – and have one additional lineup to enjoy on our outdoor stage. In addition to showcasing these talented local musical openers and headliners, each concert will also feature special performances of songs created by young students from local non-profit We Amplify Voices (WAV).
Benefit Beers // The Label Art
To help amplify the local artists in our community, especially during an event like Franklinton Fridays, we release a new beer from our Experimental Series during each event that features the artwork of a local artist to help raise funds for the Franklinton Arts District. These Franklinton Friday Benefit Beers have labels designed by a local artist to help showcase the immense talent found throughout our community and increase visibility of each local artist's style, work and inspiration. Single cans and six-packs of these limited edition Benefit Beers are available exclusively here at Land-Grant, with 100% of the proceeds from their sales going back into our community to support the gallery and artists throughout our community.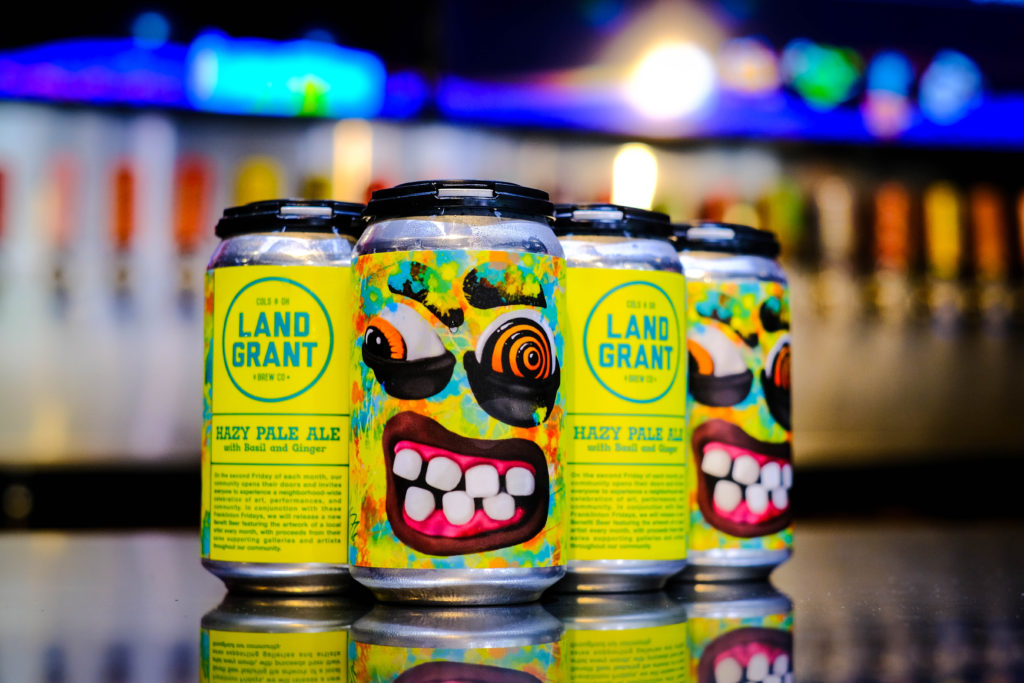 The ABCs // Artist Behind the Can
Our feature label artist on this October Franklinton Friday Benefit Beer label is Felicia Dunson, best known by the name FDZgraffiti. A Columbus native, Felicia is a multi-faceted, formally trained fine artist with a passion for fashion and an urban arts background. She is an art instructor who loves sharing her gift with the community, and has grown passionate about portraying graffiti as a fine art form and not a crime.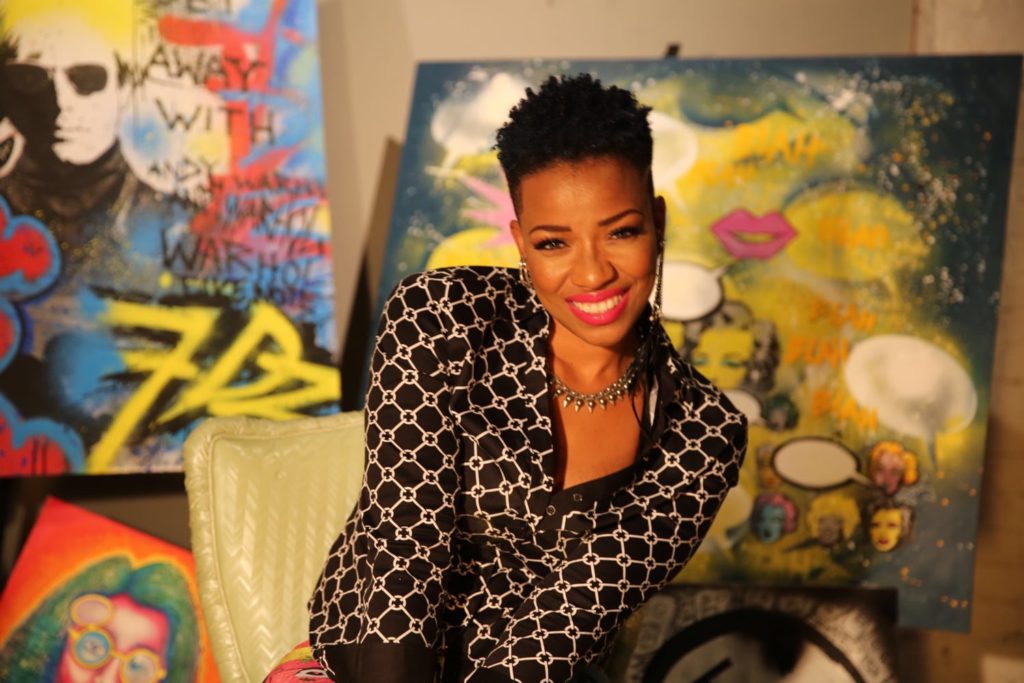 "I just want to show kids that, if you appreciate graffiti art, you don't have to go out and be a vandal or destroy someone's property or use a building," Felicia said. "There are really cool ways you can create graffiti on canvases or clothing to make something new again."
Felicia's commitment to educating others about graffiti as a fine art goes hand-in-hand with her passion for sustainability and up-cycling – lessons that have resonated with art educators near and far. This past May, Felicia did an IGTV interview on the topic of "Creating Powerful Graffiti" with The Art of Education University, a university built by art teachers, exclusively for art teachers. During her interview, Felicia offered several different ways that educators could break down the fundamentals of graffiti – even without spray paint – to help introduce it to students as a respectable, positive art form. She also introduced the audience to her "DeadCanZ" series of art, where she up-cycles her empty spray paint cans into 3D graffiti art.
After the start of the school year this fall, Felicia has been flooded with messages and photos from art educators – both locally and nationwide – who have been inspired by her work that they've been incorporating it into their lesson plans.
Felicia's "DeadCanZ" series is what inspired her label design for this month's Franklinton Friday Benefit Beer. Felicia's label incorporates one of the characters from her up-cycled spray paint can art and her signature bright color palette to help bring the can to life and put her art in the hands of Land-Grant customers. Felicia's label adorns cans of this month's Experimental Series release – a Hazy Pale Ale with Basil & Ginger, inspired by the bright yellows and greens in her design.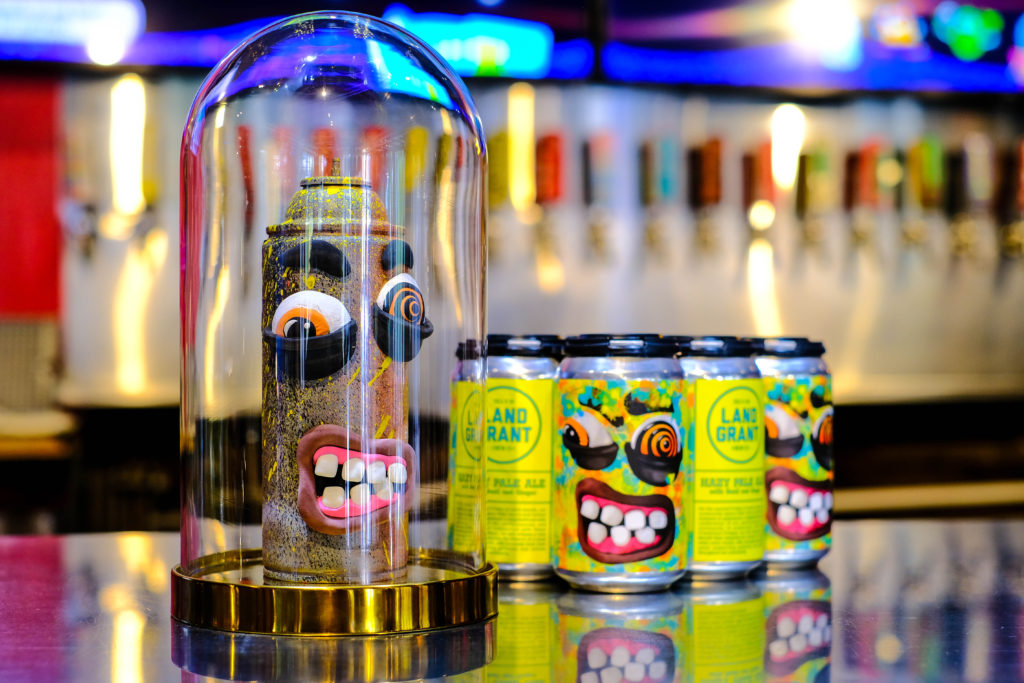 The pattern on Felicia's label also pays homage to her other artistic outlet – fashion. Motivated by the desire to keep fashion out of landfills, Felicia has been applying her talents to up-cycling clothing by breathing new life into the garments. She'll be selling her clothing, which she recently just showcased at Columbus Fashion Week's Passport 2 Fashion, this weekend at her pop-up shop that's part of the Summer Spray project. You can stop by to shop her designs at 889 N. High Street on Friday from 1-4 p.m. and Saturday & Sunday from noon to 9 p.m.
As far as what's next for Felicia, she said she's currently excited about being onboarded to Disrupt Art, a curated NFT (non-fungible token) marketplace where artists, activists, and allies intersect to revolutionize the social impact of art, music, fashion, and film. She says she'd love to build on the moment of this beer label release by incorporating the opportunities that Disrupt Art provides.
"In the future, I'd love to create another label with an NFT attached that unlocks access to the can to come alive to help raise money for a charitable cause," Felicia said. "I believe that graffiti art is quintessentially going to become a staple of our society, especially with the activism and protests of the past couple years, and I want to inspire people to develop a love and appreciation for it."
Mery Steel, The George Barrie Band // The Music
We're excited to be able to (finally) welcome the music of Mery Steel to our stage, with opening act George Barrie Band kicking things off at 6:30pm in our Beer Garden. This lineup was slated to perform at the August 13 Franklinton Fridays, but was cancelled due to weather.
Raised on John Prine and Steely Dan, local artist Mery Steel is a self-described "weird-adjacent moody Ohio twang pop" artist who writes twangy bangers about love, lust and global warming. Her upcoming record is an homage to the Americana of the 80s, taking cues from Bruce Springsteen, Joni Mitchell and Tom Petty. Come for the lap steel, stay for the overshare.
The George Barrie Band's upbeat blend of groovy rock n' roll is inspired by bluesy songwriters across genres and generations. George first picked up his dad's red Fender guitar at age 11 and since then, he has built a career as a musician, songwriter, and producer here in Columbus. The George Barrie Band's first album, Keep Dreaming, was released in 2016. The group's second album, Boomerang, dropped in 2019, following a music video for the single, "Maybe".
"Boomerang…will lift you into the clouds…and quickly take you to the beach. With the shining melodies, wavy harmonies, and joyful lyricism it is exactly what a music listener wants to hear as spring turns to summer." – Doug Queen of Weird Music