Easy Tiger
Conceptualized by Land-Grant graphic designer Bonnie Zhao, Easy Tiger Yuzu Wheat Pale Ale invites you to raise a glass to the Year of the Tiger. Released to coincide with the dawn of the Lunar New Year, this classic wheat pale ale is brewed with bright and super citrusy yuzu fruit for a zesty rush of lime and grapefruit. Simcoe, Citra, and Columbus hops add a splash of bright tropical character to this light, refreshing beer. Proceeds from this beer benefit Asian American Community Services here in Central Ohio, and we're releasing it with a Lunar New Year celebration and happy hour in our Taproom.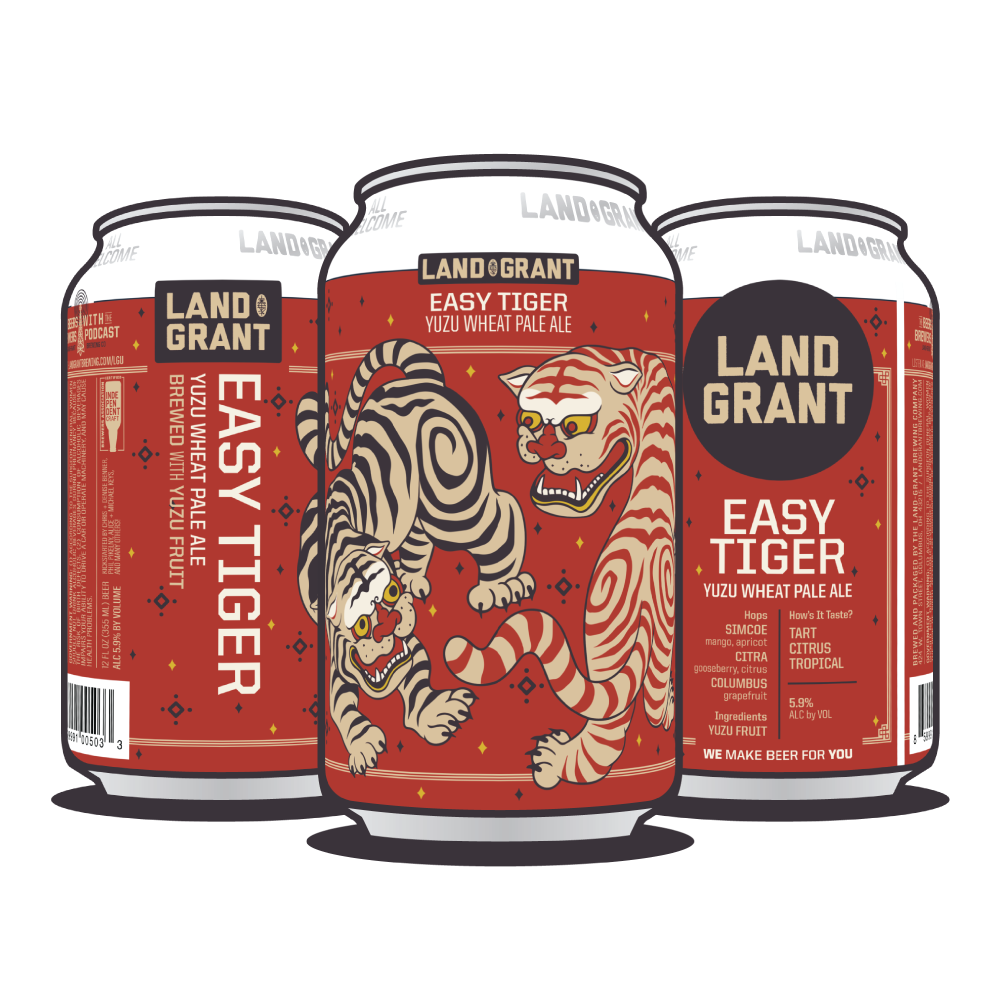 Behind Bonnie's Design
When asked about her design inspiration for this beer, Bonnie wrote this passage as an expression of what drove her to develop the look and feel for the brand:
"He was a ferocious beast. A warrior with so much skill and strength that he became the guardian to the gates of heaven. But Earth was chaotic and needed the great protector to return and bring balance. And so the tiger tumbled back to Earth to guard the humans from evil and wickedness. For his valor, he was awarded three horizontal lines to represent the three great enemies he defeated to protect the humans. When the world was once again saved by the fearless warrior, he was given a vertical line. And so the tiger was branded a 王, the Chinese character for 'king', and he became the king of all animals. When the supreme god heard of the Tiger's many great deeds, he was invited to become a Chinese Zodiac and take his place as one of the most important animals in Asian folklore."

-Bonnie Zhao, Land-Grant Brewing Company Designer
AACS Ohio
Asian American Community Services (AACS) has supported the needs of Asian, Asian American and Pacific Islanders throughout Central Ohio since 1976. AACS works to improve the well-being and quality of life of Asian Americans and Asian immigrant families in Ohio by providing social services and empowering individuals through education, training and leadership.
AACS's Family Support Program (FSP) provides services to crime victims (i.e. hate bias, domestic violence, sexual assault and human trafficking), helping their clients navigate emergency assistance, transportation, and referrals to partner agencies. AACS also provides support to senior citizens through their Senior Outreach Program and youth programming, Healthy Asian Youth (HAY.)
The AACS Senior Outreach Program provides services for community members who face difficulty accessing public and necessarily resources – supplying case managers who personalize their assistance for day-to-day needs. Because language access can be a service barrier for many, this program is available for Korean and Cambodian-speaking seniors.
For more information about this program and other services offered by AACS, please visit https://www.aacsohio.org/. You can also follow AACS across their social channels on Facebook, Instagram and Twitter.
Celebrate & Show Your Support
At Land-Grant, we strive to create an inclusive and welcoming craft beer culture through our passion toward the quality and creativity of our beers and our involvement in the community. We are proud to be joining together with AACS tonight (February 1, 2022) to celebrate everyone who follows the lunisolar calendar around the world – South Korea, Vietnam, Singapore, Malaysia, Mongolia, Indonesia, and China – in celebration of the Lunar New Year 2022!
Lunar New Year is important to many diverse Asian communities, and each has unique sets of traditions in how the new year is welcomed and ushered in. We share in their celebration with the hope and anticipation of health, peace, and courage to love and care for one another in this New Year. In solidarity with Ohio's Asian American communities, we will be donating 20% of the night's proceeds to support AACS, as well as $1 for every Easy Tiger pint and six-pack sold in the taproom.
If you'd like to personally lend your support to the AAPI community, you can donate directly to AACS online via PayPal at: https://www.paypal.com/paypalme/aacsohio.
---

About LG Let's Give
At Land-Grant, our commitment to being open and welcoming in our community has yielded nothing short of a deep appreciation for our beloved home city and the people that live in it. Since opening our doors in 2014, we have been committed to donating at least 1% of our gross annual revenue to local area initiatives under the strategic focus areas of long-term community & neighborhood sustainability, education, environmental sustainability and animal welfare/pet rescue.
Our LG Let's Give program is designed to maximize the impact of our charitable efforts toward organizations and causes within these strategic focus areas. One of the key ways to work with us is through an LG Let's Give Night. Hosted in our taproom on Wednesdays, these fundraising happy hours are an opportunity to raise awareness of your organization while Land-Grant donates 10% of the evening's proceeds to your organization.
If you're involved in a non-profit organization that falls within one of our strategic focus areas, you can apply for an LG Let's Give Night for your organization here.