Franklinton Friday Music Series
As the summer weather fades, our Beer Garden is still heating up one last Friday as home to the 2021 Franklinton Fridays Music Series! In partnership with the Franklinton Arts District, we've hosted free live music on our Beer Garden stage the second Friday of each month during Franklinton Fridays. Not only does the FFMS showcase a variety of talented local opening and headlining musical acts, but each concert also features special performances of songs created by young students from local non-profit We Amplify Voices (WAV) to kick off the evening!
Benefit Beers // The Label Art
To help amplify the local artists in our community, especially during an event like Franklinton Fridays, we release a new beer from our Experimental Series during each event that features the artwork of a local artist to help raise funds for the Franklinton Arts District. These Franklinton Friday Benefit Beers have labels designed by local artists and also used across concert posters for the evening. Single cans and six-packs of these limited edition Benefit Beers are available exclusively here at Land-Grant, with 100% of the proceeds from their sales going back into our community to support the art and artists of the Franklinton Arts District.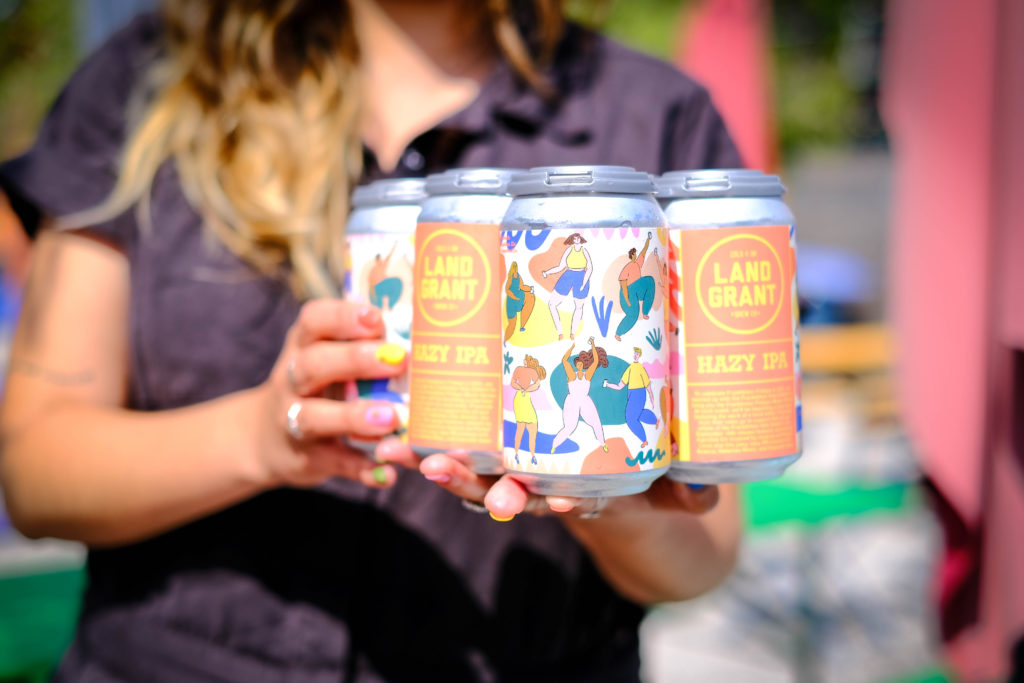 The ABCs // Artist Behind the Can
Agostina Ele – whose work is featured on our September Franklinton Fridays Benefit Beer – is an artist and designer born in Argentina who has called Columbus home since 2014. Agostina studied textile design and earned her BFA in Fibers in 2013 from the Savannah College of Art and Design, after which she spent several years working in the fashion and home furnishing industries. She has created prints and patterns for brands like Abercrombie & Fitch, Hollister and Jaipur Living. In 2017, she opened a small online and brick-and-mortar business called Valiente Goods Co., which specialized in fair trade/ethically and responsibly sourced textiles and other locally made goods for the home.
With such a strong background in textiles, Agostina often pulls inspiration from crafts and bright colors, which brings a fun, illustrative approach to her design. Her work is heavily influenced by women, their stories, their relationships and empowering them to celebrate life at every moment – all of which is reflected in her wholesale line of art prints, greeting cards and stickers, as well as showcased on her Franklinton Fridays Benefit Beer label design. 
"When working on this label's design, I was inspired by that end-of-summer feeling – when you're squeezing every last bit out of hanging out with friends, having beers and enjoying live music in the nice weather," Agostina said. "I thought of this label design as my 'goodbye to Columbus' as I get ready to move to Austin, and it perfectly captures that feeling of one last hoorah with my friends."
Agostina getting tapped for this design was no accident; she manifested designing a beer label for a brewery after an inspirational trip to Asheville, NC last September after her 30th birthday. This dream quickly became a reality as her design now adorns the September Franklinton Fridays Benefit Beer – a Hazy IPA from the Land-Grant Experimental Series one year later.
When she's not busy manifesting another career achievement, you can find Agostina dreaming of her next international adventure or on a plane to somewhere far away. As she mentioned, she and her partner, Tim, are about to make the leap from Columbus to Austin, Texas in just a few short days. While her online shop is technically closed while she takes some time to settle into her new home and office, you can currently find her designs locally at The Little Light Collective vintage co-op and Goodland Brand. You can also visit agostinaele.com and sign up for her mailing list to be notified when the shop reopens!
Parker Louis // The Music
This Friday, September 10 – we're excited to welcome Parker Louis to our Beer Garden stage, with opening act Zhenel.
Parker Louis graduated from Capital University in 2012, where he said he "cut his teeth" in the music scene here in Columbus. He worked with his previous project, Forest & The Evergreens, from 2013 until 2017, when the group decided to take a hiatus. It was at that time that Parker decided to branch out on his own to keep writing and releasing music. He'd crossed paths with several musicians over the years and reconnected with several of them at the same time he was striking out on his own; they hit it off and decided to perform together – creating a sound that Parker describes as "an amalgamation of groove and color – R&B, soul, love and energy."
Take a listen to Zhenel and Parker Louis now and get ready for a night of great music, fantastic art, and fresh local beer.