Brewing beer requires large amounts of energy, agricultural ingredients, packaging material, water, and labor – all to ferment it and pour it into a single glass. These diverse touchpoints allow breweries to pursue many different facets of sustainability in our business: energy efficiency, water stewardship, supply chain management, waste management, wastewater diversion, carbon emissions and more.
Here at Land-Grant, sustainability has been one of the founding principles of our business model. From when we first began brewing, we diverted our grain and invested in philanthropic beer collaborations to benefit the community. We have worked to prioritize sustainability, putting practices in place that reduce the amount of energy we use, the amount of waste we create, and the way we think about doing business. We formalized these efforts in 2017 as our Sun-Grant Sustainability Program, and these efforts have grown with us as a brewery.
Working to reduce our impact requires continual technological upgrades to our building and equipment, as well as deep community partnerships. As of 2019, the power we purchase comes entirely from renewable resources. Additionally, we replaced our entire building's roof to increase energy efficiency in both summer and winter. The new roof over the taproom was built to potentially support the addition of solar panels at a future date.
When our local sales rep noted putting in more than 10,000 miles of car travel in the last quarter, a shift to electric vehicles became a top priority in reducing our carbon footprint this year. As an Acceleration Partner with Smart Columbus, we assessed our EV opportunities and successfully electrified our sales vehicle with the purchase of a Chevy Bolt earlier this month. Not only does this eliminate the emissions from the mileage, but the EV is charged from our renewable electricity – essentially reducing the carbon footprint of our local sales team's travel to zero.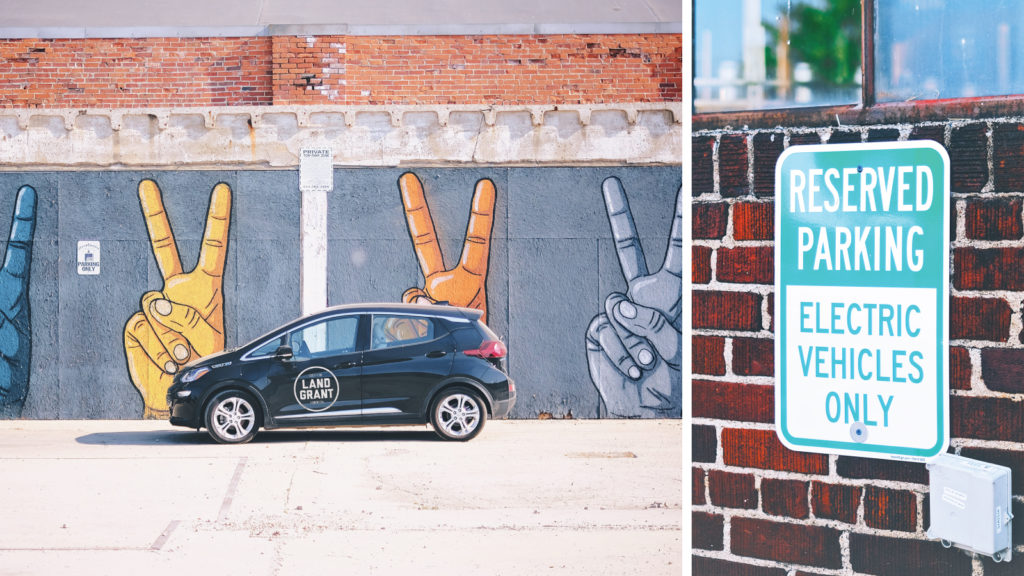 Meet Molly
Land-Grant's new Sustainability Intern, Molly Ridge, is a fourth-year student majoring in Environment, Economy, Development, and Sustainability (EEDS) at The Ohio State University. Molly is joining our team this summer to focus on various sustainability initiatives within our Sun-Grant Sustainability Program, working across several projects – from water & power consumption tracking to environmentally focused community partnerships and marketing.
Molly has gained her experience in project management through business and sustainability classes at OSU, with specific project experience working to help improve the sustainability of small local breweries. This coursework piqued her interest in the craft brewing industry and the various intersections for sustainable practices to be implemented throughout the entire brewing process.
"I have seen the ways that breweries can have a great impact on their community and improve the industry with their sustainability efforts because of the large amount of water, energy, agricultural, and packing inputs that go into creating a single can of beer."

Molly Ridge
Molly will be working with the Land-Grant team all summer long, providing updates and insights about our sustainability progress along the way. Please join us in welcoming her!
Sun-Grant's Roots
The Sun-Grant Sustainability Program was inspired by the Sun-Grant Association, a group of Land-Grant Universities that research and develop sustainable and environmentally friendly bio-based energy alternatives.
When Land-Grant opened in 2014, our skeleton crew wasn't able to actively pursue sustainability beyond donating grain while also brewing, kegging, canning, delivering and bartending to get ourselves off the ground. Once we grew more stable and gathered more resources, the Sun-Grant Sustainability Program was born to measure, manage, and pursue our various environmental and communal initiatives both within and outside of our brewery.
Through Sun-Grant, we seek to address common themes within the world of sustainability: reduction of greenhouse gases, closing loops, minimizing waste, decreasing our water use intensity, diverting brewing byproduct from our wastewater, lowering the impact of our supply chain, and partnering with different farmers, environmental organizations and community groups throughout our city and state to make a healthier, better, cleaner world.
While we know there is always more work to be done, we are extremely proud of the business we've become in pursuit of sustainability, combating climate change and meaningfully contributing to our community.