A Land-Grant Collaboration with The Food In My Beard
In an effort to bring you some out of the box recipe ideas that help you incorporate Land-Grant beers into your cooking, baking and cocktailing – we knew Columbus-based cookbook author and blogger Dan Whalen was the man for the job. Known for playfully crafting unique flavor mash-ups and turning them into must-try recipes on his blog "The Food In My Beard" – our series (not-so-cleverly called "The Beer in My Food) takes does the same thing with Land-Grant brews.
In celebration of the Columbus Crew's Black & Gold Week – Dan took on the task of crafting a tailgate-approved menu item with a Massive black & gold twist…his creation? Massive Black & Gold Meatballs – pork, turkey, and mango meatballs in a black BBQ sauce.
Massive Juicy Pale Ale Black & Gold Meatballs
Prep Time: 20 mins | Cook Time: 20 mins | Making the Sauce: 1 hour 30 mins | Total Time: 2 hours 10 mins
Black BBQ Sauce
1 large onion diced
2 cloves garlic crushed
1 Massive Juicy Pale Ale
1 cup molasses
2 tablespoons soy sauce
1 tablespoon sesame oil
1 chipotle pepper in adobo sauce from a can
1 teaspoon adobo sauce from the chipotle can
1/4 cup sugar
1 teaspoon salt
2 tablespoons apple cider vinegar
2 tablespoons activated charcoal powder (store bought or homemade)
Meatballs
1 pound ground pork
1 pound ground turkey
1/3 cup breadcrumbs
2 tablespoons Massive Juicy Pale Ale
2 cloves garlic grated
1/4 cup grated parmesan cheese
1/4 cup chopped cilantro
1 large ripe mango peeled and diced
salt and pepper
Garnish
sesame seeds
chopped ripe mango
Instructions:
DIY ACTIVATED COCONUT CHARCOAL [Optional]
1. If you want to make the charcoal yourself, purchase UNSWEETENED coconut and cook it at 350º, stirring every 10 minutes until it is fully blackened. (Otherwise, you can buy it at most health food stores, online, or you could leave it out altogether for a slightly less black hue to the sauce.)
MAKE THE SAUCE
1. Cook the onions in a little olive oil over medium high heat to blacken, about 40 minutes, stirring often.
2. Add in the garlic and cook about 2 minutes. Pour in the beer.
3. Add in the remaining ingredients. Stir and bring to a simmer. Cook about 40 minutes at a low simmer.
4. Pour into a blender – or use a stick blender right in the same pot – to blend the sauce smooth. Taste and adjust seasonings if needed: add more sugar if you like it sweeter, additional salt or soy sauce if desired or hot sauce if you like. Set aside until ready to use.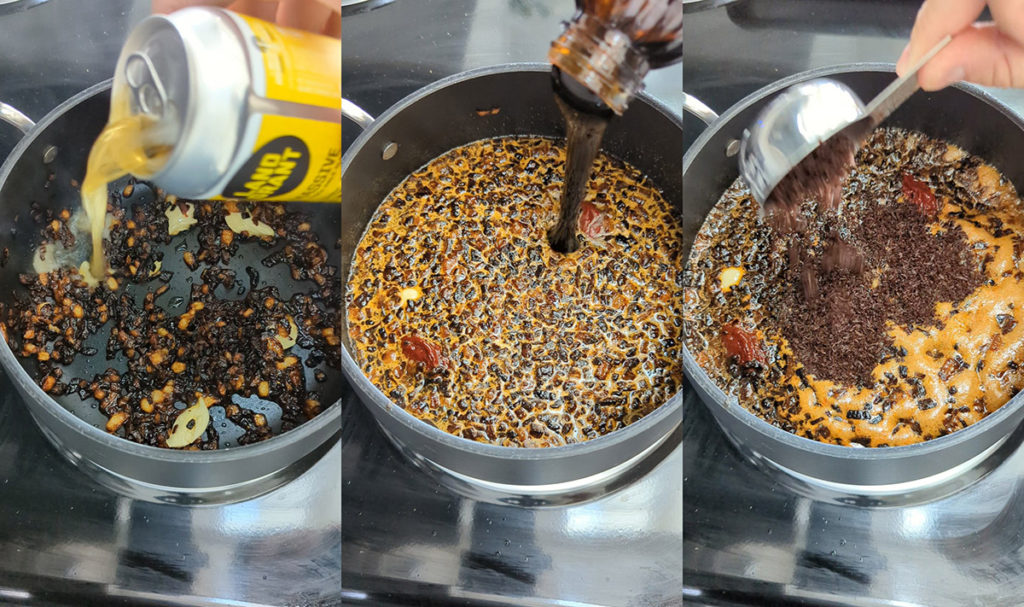 MAKE THE MEATBALLS
1. Mix all the meatball ingredients in a large bowl. Stir to combine really well. Use your hands to really make sure it is well mixed.
2. Preheat broiler to high. Form large meatballs and place them on a sheet pan. Broil about 6-7 minutes to brown on top. Flip and repeat until cooked through.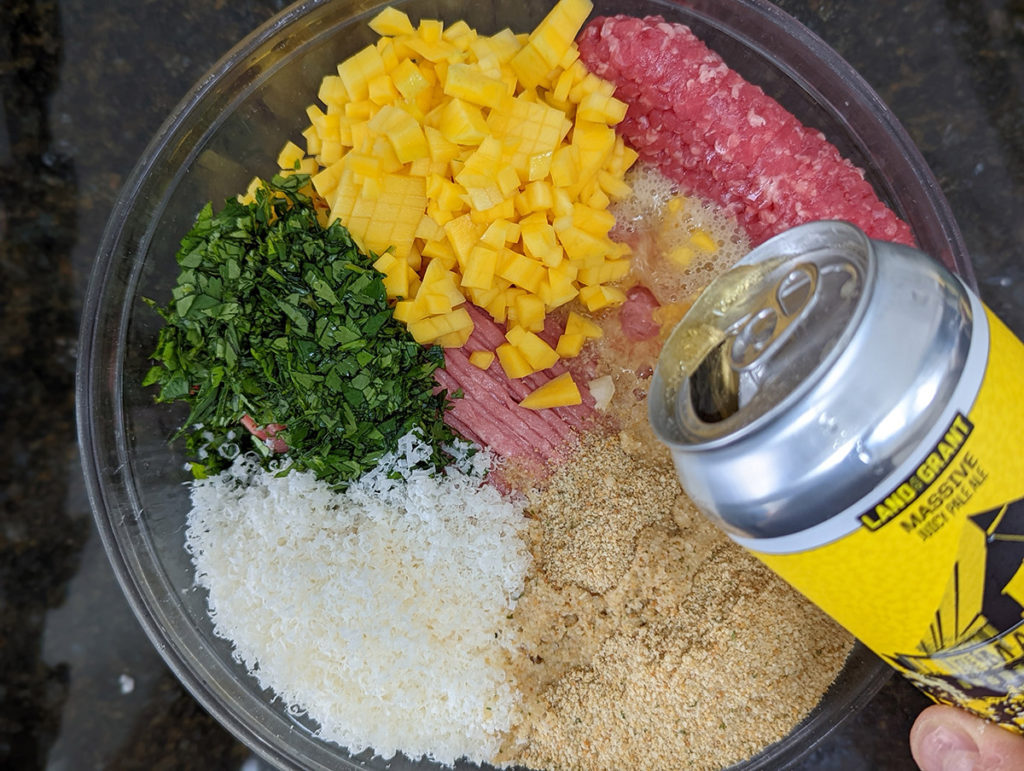 PUT IT TOGETHER
1. Pour the sauce into a large frying pan. The sauce should be fairly thick. Turn the heat to medium.
2. Add in the cooked meatballs and allow them to cook in the sauce for a few minutes.
3. Pour the meatballs onto a serving dish and top with the sesame seeds and mango chunks. Serve with toothpicks.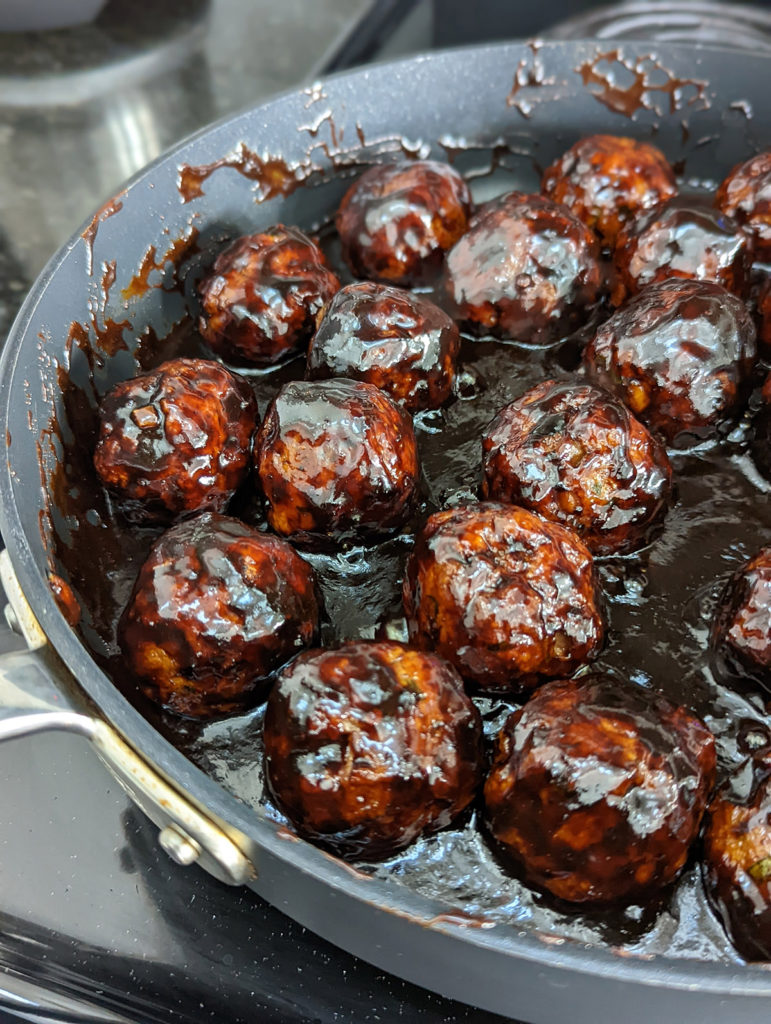 Click here for a scalable, printable version of Dan's Massive Black & Gold Meatballs recipe.
Be sure to post and tag Land-Grant and The Food In My Beard when you make one at home. While you can enjoy Massive Juicy Pale Ale all season long at Lower.com Field, you can also pick up a six-pack from the Land-Grant Taproom or at a retailer near you now – simply use our site's Beer Finder tool here to find your closest retailer.
---
A Bit About Dan
As the founder and creator of the highly popular blog, The Food in my Beard, Dan has authored several successful cookbooks, including his newest release: Nachos for Dinner: Surprising Sheet Pan Meal the Whole Family Will Love. Dan's Nachos for Dinner cookbook is available now!
You can also shop his previous titles –Tots!: The Comfort Food Mash-Up Cookbook, Stuffed: The Ultimate Comfort Food Cookbook, S'Mores!: Gooey, Melty, Crunchy Riffs on the Campfire Classic and The Comfort Food Mash-Up Cookbook in stores and online now. Over the course of the last 10+ years, Dan has published more than 2,000 recipes that have racked up more than 50 million views.
He and his wife, Georgina, currently reside here in Columbus, where Dan works as a full-time blogger and writer. Keep up with his latest creations on his TFIMB blog or follow him on Instagram, Facebook and TikTok.