Leashed and well-behaved dogs welcome outside in the Beer Garden and patio. Service animals only inside.
Family Friendly until 8pm, 21+ after 8pm. Children must be closely supervised at all times.
Taproom +
Beer Garden Quick Info
---
Interested in reserving space for your group? Our Kickstarter Room or Beer Garden Bungalows would be perfect.  Click the button below for all the details and to make your reservation!
FOOD
Beer goes great with food, and we're lucky enough to partner with some culinary masters to provide eats to the taproom and beer garden on a daily basis. Ray Ray's Hog Pit (Food & Wine's best BBQ in Ohio) serves as our anchor food truck and are open Thursday-Sunday. We also have amazing rotating trucks here to serve you Monday-Wednesday, and bring in additional options for large events and busier days.
RAY RAY'S HOG PIT / Th-Sun / 11:30am-8:00pm
---
The best Barbecue in Ohio, according to Food + Wine Magazine.
It's not in the sauce — it's in your soul. That's what sets Ray Ray's Hog Pit apart. You can't rush barbecue. Select cuts of pork, beef, and chicken are dry rubbed and cooked low and slow for the hint of hickory and honesty of oak that only 12 to 16 hours in a hardwood smoker can create. Traditional and original sauces — sweet and savory, jalapeño to habanero — always on the side, so as not to hide the pink smoke ring only found in authentic barbecue.
We're really welcoming you back to the farm. So slow down, sit down, and share a meal (and a beer) with friends and neighbors — served outdoors, as barbecue should be.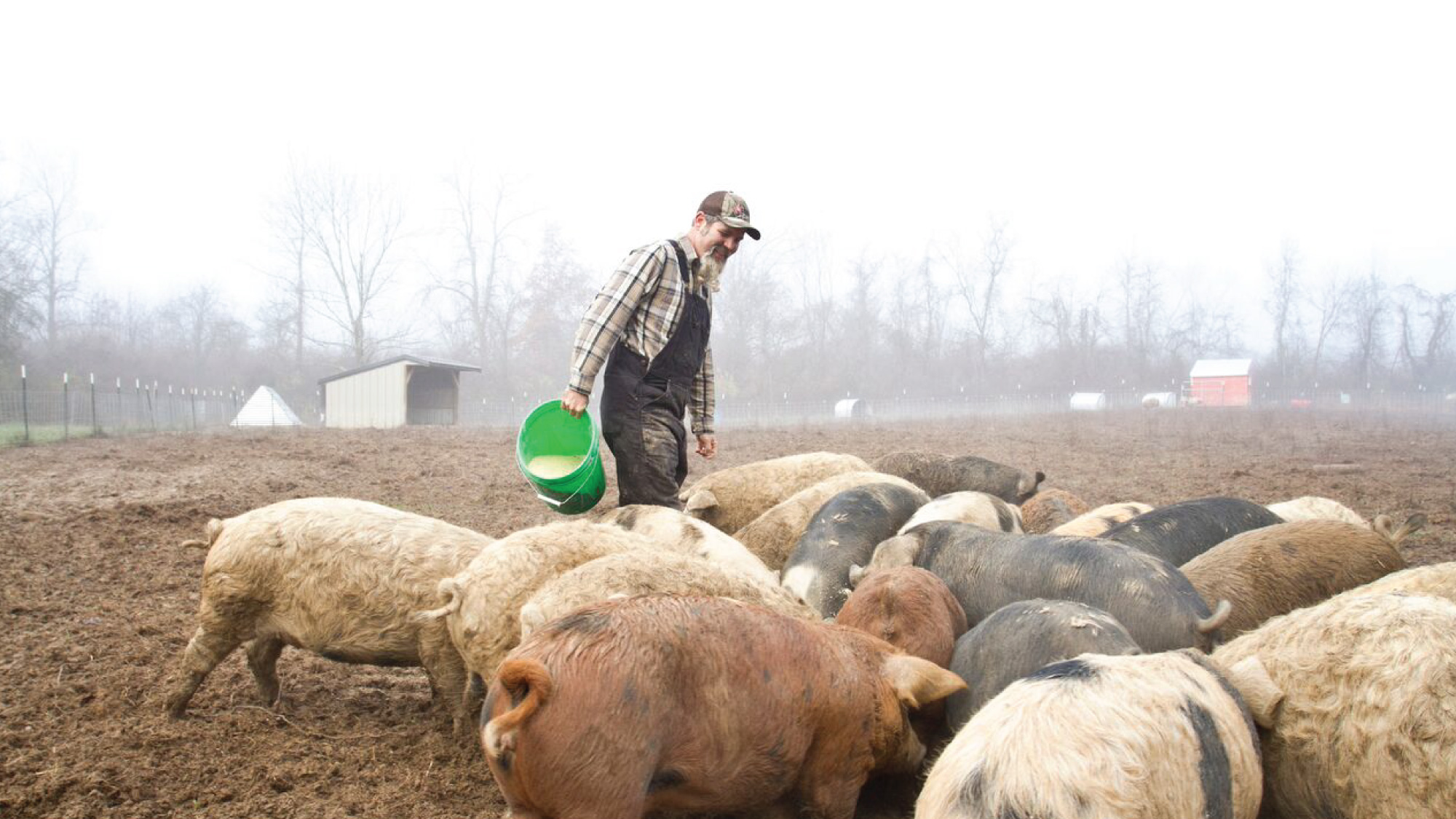 Launched at the taproom in November 2017, Ray Ray's is Land-Grant's dedicated food truck from Thursday through Sunday. All of your Ray Ray's favorites are on the menu, including smoked ribs, jerk chicken, beef brisket, pulled pork, and more! Beyond sit-down lunch and dinner services, Ray Ray's and Land-Grant will accommodate carry out customers, party platter preparation, as well as catering services for events taking place in the taproom.
Click Here to Order Bulk BBQ
---
Ray Ray's Instagram | Facebook | Website
MENU
---
RIBS
Smoked St. Louis Cut Spare Ribs and Baby Back Ribs
SAUCES & RUBS
Ray Ray's Sweet BBQ
Jalapeno BBQ
Habanero BBQ
Carolina Vinegar Based
Ray Ray's Dry Rub
Spicy Dry Rub
SANDWICHES
Jerk Chicken
Beef Brisket
Pulled pork
Carolina Chop Pork
Ray Ray's Hot Link
MEATSWEATS
What we do best, in a box. Smoked brisket, pulled pork, jerk chicken, dry rubbed ribs, and our own Ray Ray's hot link, with pickles and sauce.
SIDES
Cole Slaw
Pit Baked beans
Collard Greens
Waffle Fries
View full menu here.