Land-Grant's summer Sustainability Intern, Molly Ridge, has been diving deep into our brewery and taproom operations, as well as our community partnerships, to identify ways that we can continue moving toward operating more sustainably. In exploring these opportunities, we thought it might be helpful to have Molly share a few tips for how we all could work to integrate some sustainable practices into our everyday lives.
1. Opt For Native Plants
This sustainable tip comes just in time for summer. When planning your garden, flower pots or landscaping, opt for native plants. What's a native plant, you ask? Native plants are essentially any plant that occurs naturally in the place where it evolved. Not only will these plants look beautiful in your yard or on your patio, but they are already adapted to our crazy Ohio weather, which means they will require less water – saving you both money and effort. Pollinators also love native plants, making them a win-win option for you and the bees. 
This summer, Land-Grant has planted over a dozen varieties of native plants in partnership with our neighbors at the bee collective. With bee box neighbors on both sides of the brewery, we trust that these friendly pollinators will enjoy the beautiful native plants in our Beer Garden as much as we do.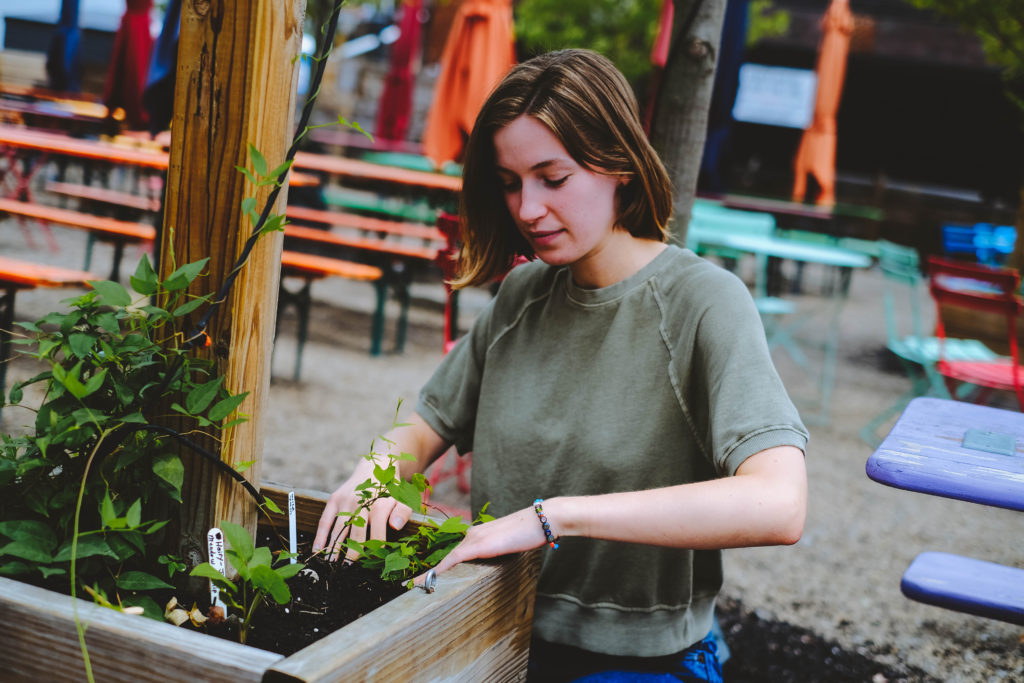 2. Reuse & Recycle PakTechs
A second way to keep your footprint light is to reuse and recycle your 6-pack can holders – better known in the brewing world as PakTechs. PakTechs are endlessly reusable, as long as the tabs that hold the rim of the can are intact, so you can continue to use them for build-your-own-six-pack options in grocery stores and markets or give them a second life when taking beer to a friend.
While PakTechs are far more wildlife friendly than traditional plastic six-pack rings, it has been frustrating that they haven't been recyclable here Columbus…until now! Land-Grant is proud to be the first collection center in Columbus for PakTechs. That means when you've finished the last of your Lemon Glow or you've drunk the last Pool Party Pilsner in your pack, simply bring the PakTech into the brewery on your next visit and we will make sure it gets properly recycled.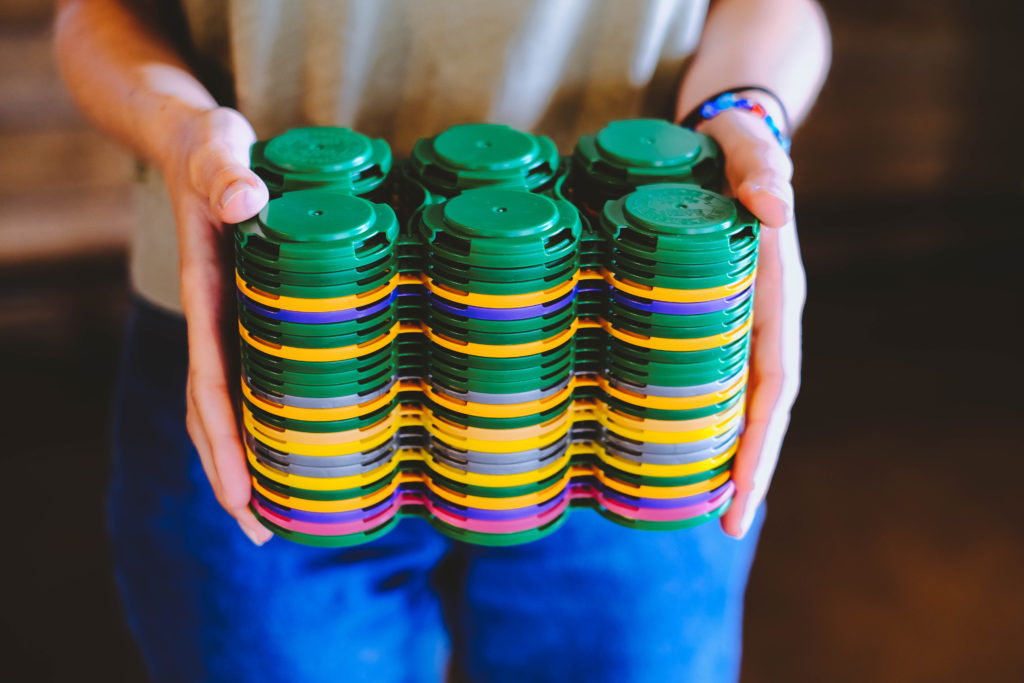 3.Reduce Water Use
Although reducing water consumption is one of the most commonly mentioned ways to live a more sustainable life, it's one of the easiest, cheapest, and more accessible ways to do so! Fixing leaky faucets, investing in a shower timer, and stopping the tap while you brush your teeth are little things that can add up to big savings in water cost and consumption. Want to go a step further? Take the leap to invest in a rain barrel to collect and water your garden.
Remember those native plants we mentioned earlier? Land-Grant is currently taking steps to install a rain barrel to water our native sunflowers, goldenrods, and asters with naturally collected water. While this may be a small step, we recognize brewing is a water intense process and we are striving to reduce our water use any way we can.
4. Compost
Here in Franklin County, over one million pounds of food waste goes into the landfill each day. We can help reduce this amount by participating in composting programs around the city. The Compost Exchange is a curbside composting program offering services to residents around Columbus. Citywide composting programs have already been established in Dublin, Grandview, Hilliard, and Worthington – and The Compost Exchange can service many other Columbus neighborhoods, as well. Learn more about The Compost Exchange here.
At Land-Grant, we are working to reduce our waste by restarting our zero-waste events and partnering with The Compost Exchange. Although we will have fewer events this year as we are only recently moving away from the pandemic restrictions, we proudly restarted our zero-waste event initiative during our Stonewall Family Pride Network event that we held on June 26th.
5. Shop Local
My fifth sustainability tip is to shop and buy local. While it seems simple, shopping and buying locally reduces food and beverage miles while also helping build a sustainable and vibrant community. Many of the foods and beverages we enjoy travel hundreds or thousands of miles to get to our table, creating significant environmental costs. Shopping locally reduces the amount of distance and fuel required to get products from the manufacturer to the store and ultimately, to your home.
Supporting local businesses also keeps money in the local economy, helping communities thrive and flourish. Local businesses are often more engaged with their community than big businesses and lend their support to community development activities and community organizations at a higher rate.
From its inception, Land-Grant has committed to donating at least 1% of its annual revenue back into the community. With all of our brewing occurring locally here in Franklinton, you can feel good about picking up your favorite LG six-pack or stopping in for a pint, knowing your purchases support our community and that the beer was made locally with love.