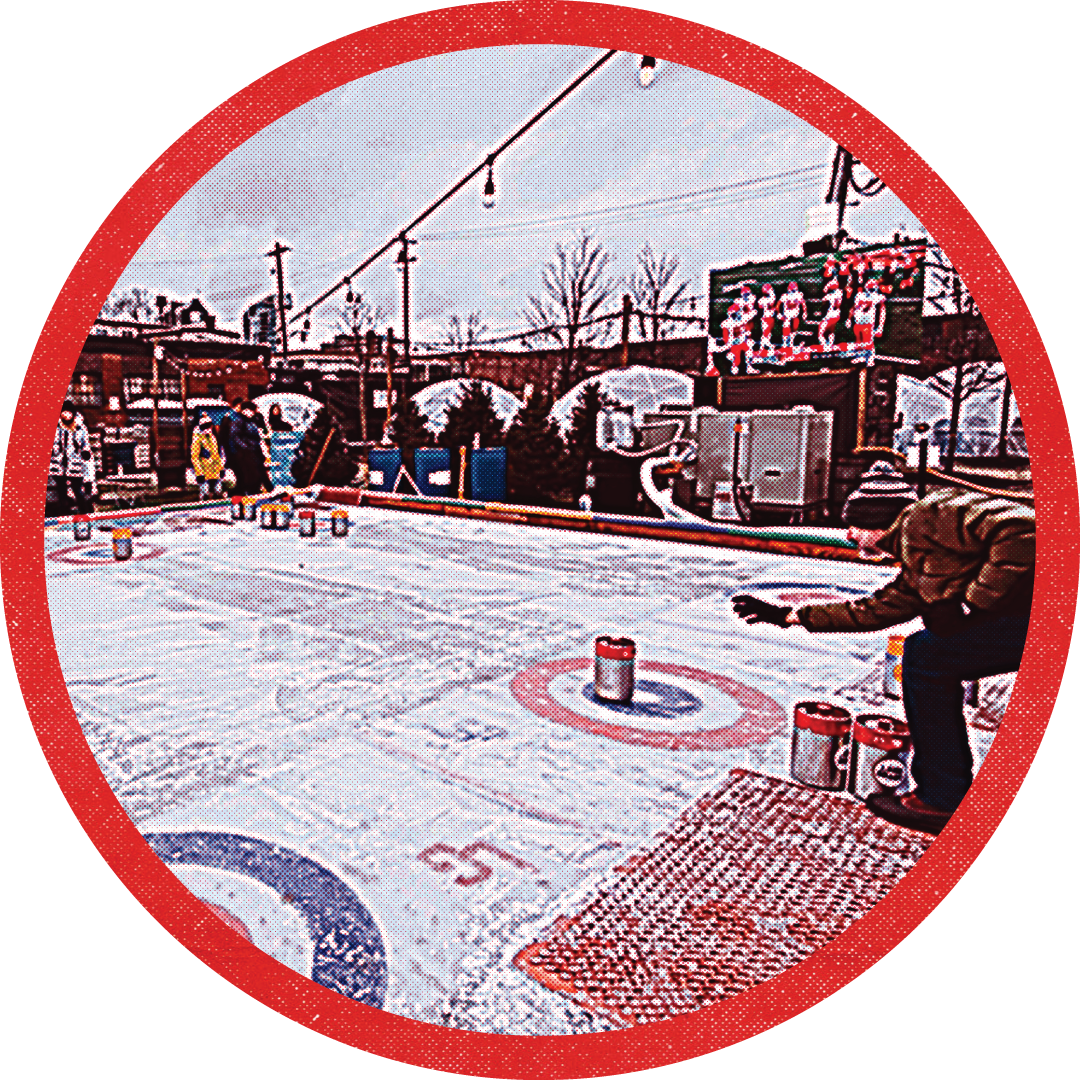 Brewery Curling
Curling is back! Columbus' favorite winter activity is getting started even earlier this year! Reservations are open now for the season, and you can start sliding kegs as early as December 1st! Your reservation includes 90 minutes of ice time, a heated igloo with seating for 8, and table service directly to your group. Lanes book fast, so grab your spot today!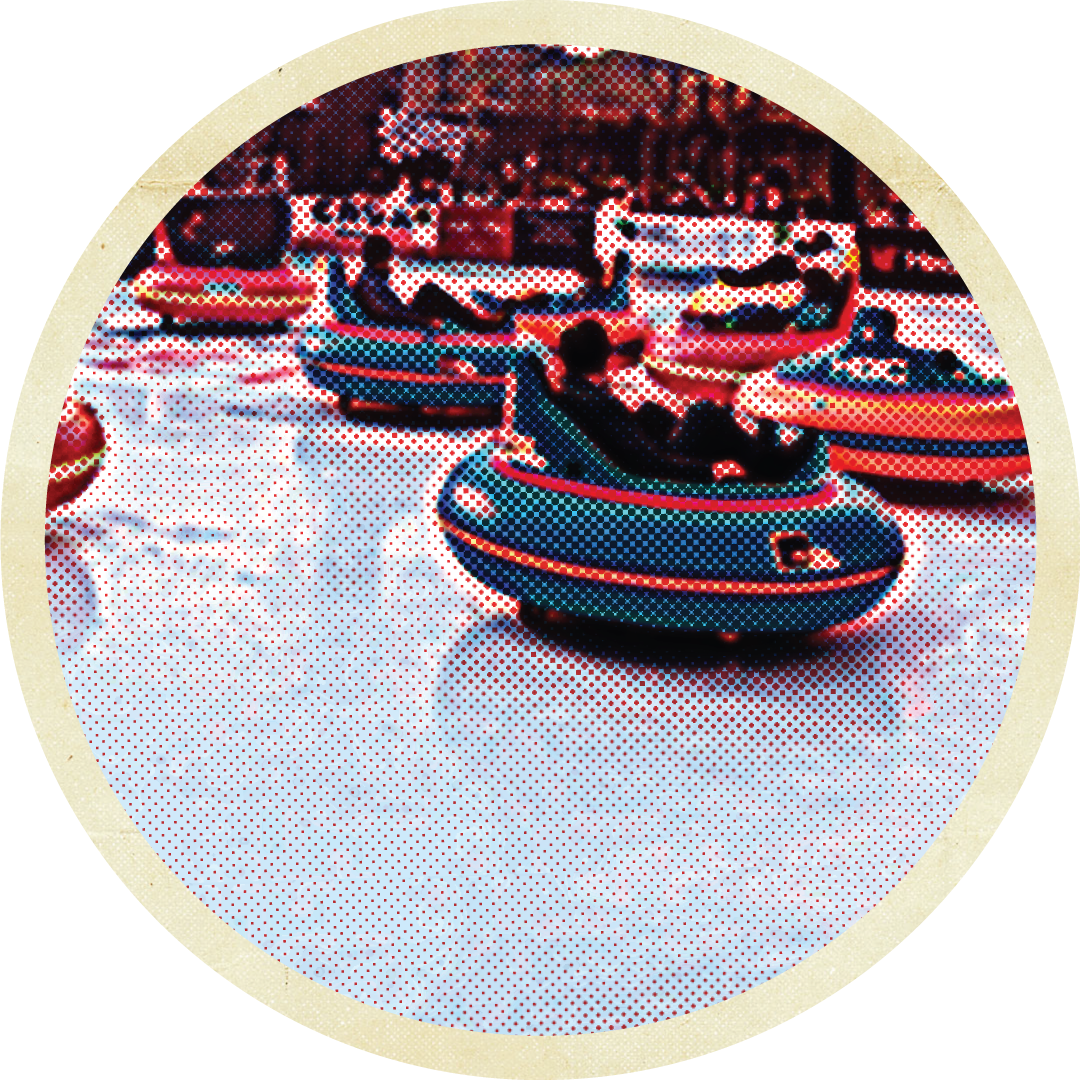 ICE BUMPER CARS
What could possibly be better than regular bumper cars? ICE Bumper Cars, of course. Enjoy the winter weather on the ice at the NEW GRAVITY EXPERIENCE PARK
BEER GARDEN IGLOOS
Cozy up with your friends and family this winter season in one of our heated Beer Garden Igloos. Now featuring friendly table service, igloos are available for reservation in two hour increments and are the perfect place for your get-togethers throughout the holidays and cold winter months.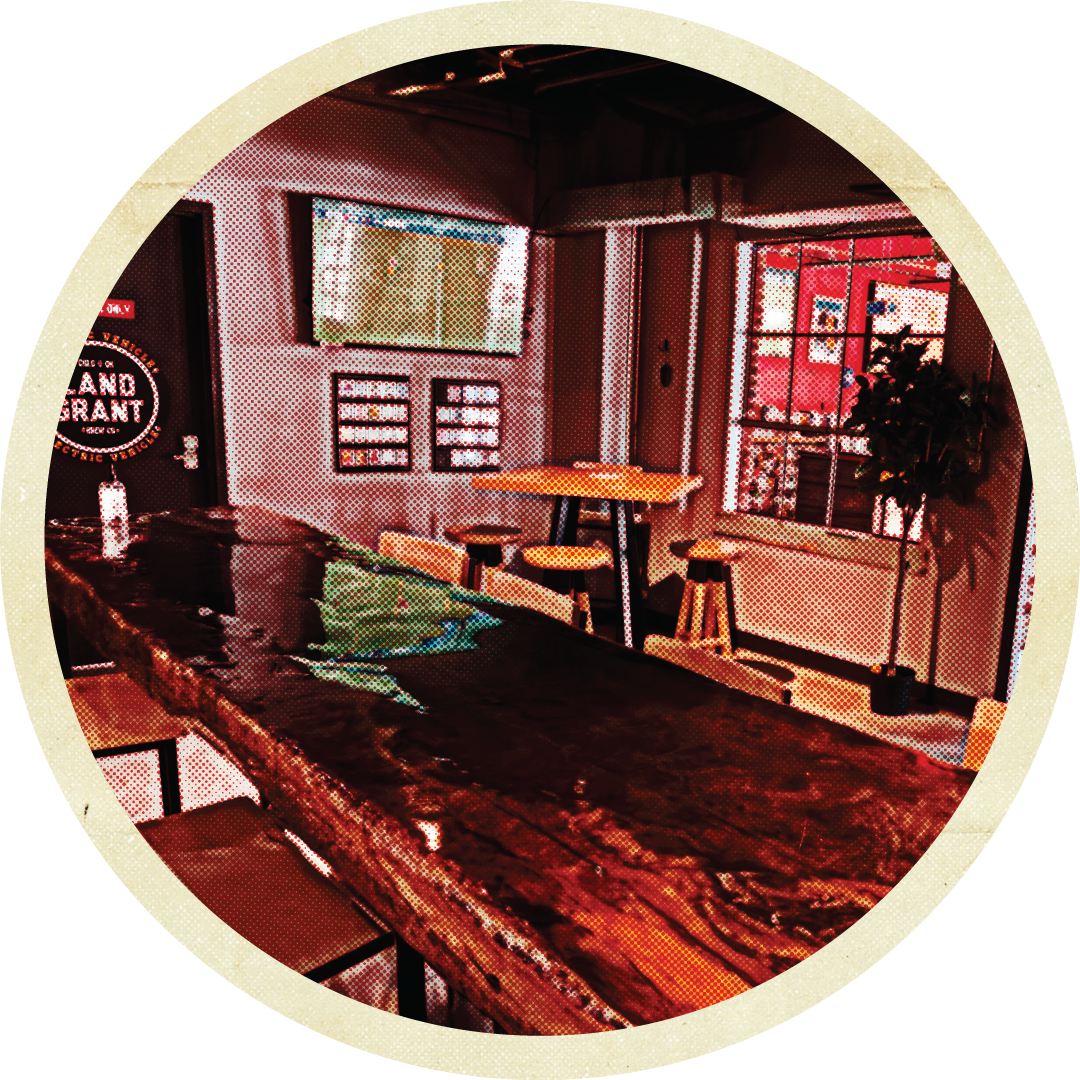 KICKSTARTER ROOM
The Great Indoors more your thing? No problem! We love hosting your events and truly enjoy sharing in your celebrations. From birthday parties, to office parties, to receptions, our Kickstarter room offers a casual, laid-back space with a unique view into our brewing facility. It is a semi-private room that works great as a home base for larger parties to mingle throughout our taproom, patio, and beer garden.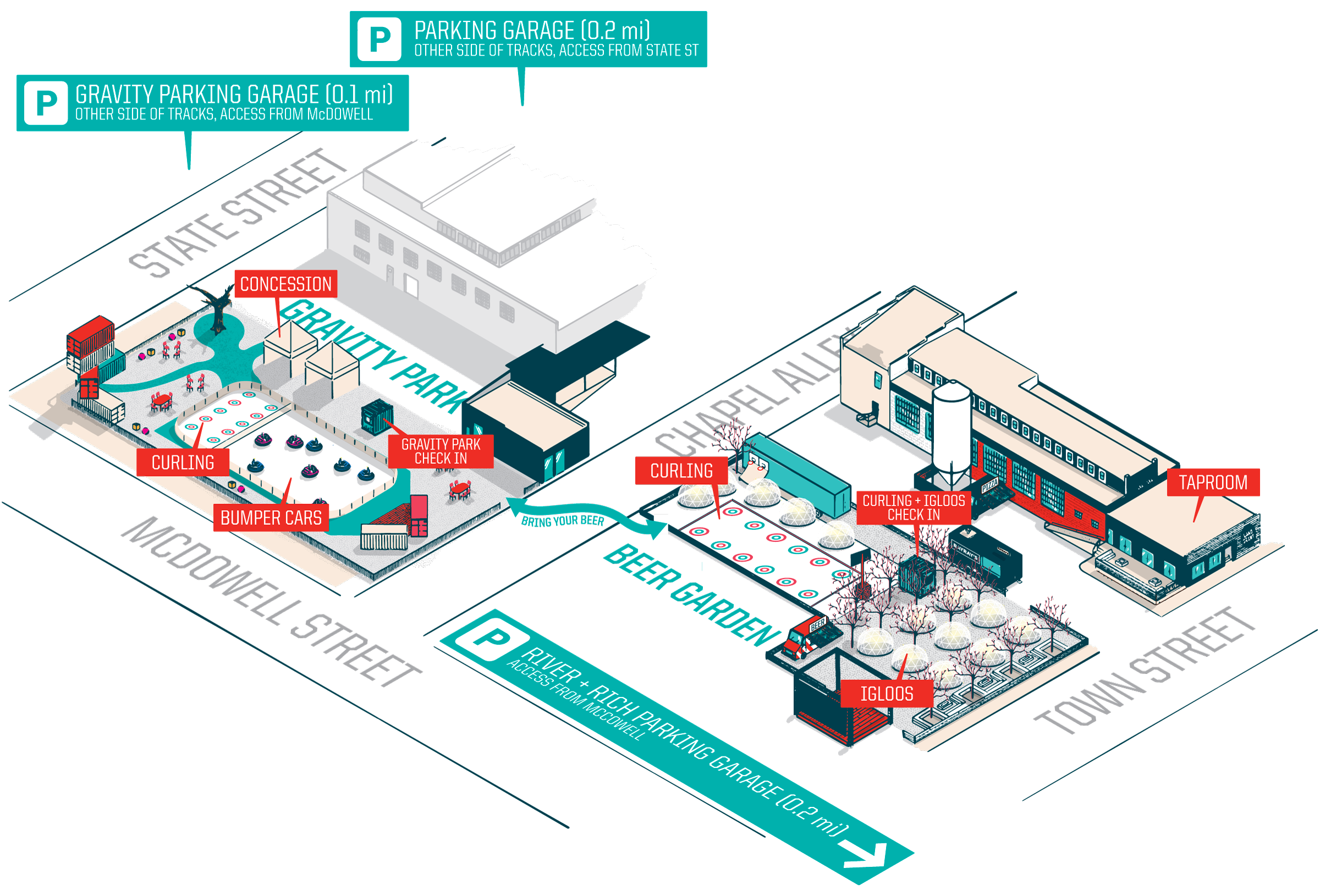 EUCHRE LEAGUE

Our popular Monday Night Euchre League returns to the taproom for its 8th year, with two seasons of play (Holiday and Winter). Visit the Euchre Page to check out the particulars and keep an eye on our newsletter for signup info. 
TRIVIA NIGHT

Join us on Tuesday nights for our lively Pop Culture Trivia Night, hosted by Travis Hoewischer. Play with friends, or fly solo in this challenging, fast-paced trivia contest with weekly themes and topics to test your knowledge.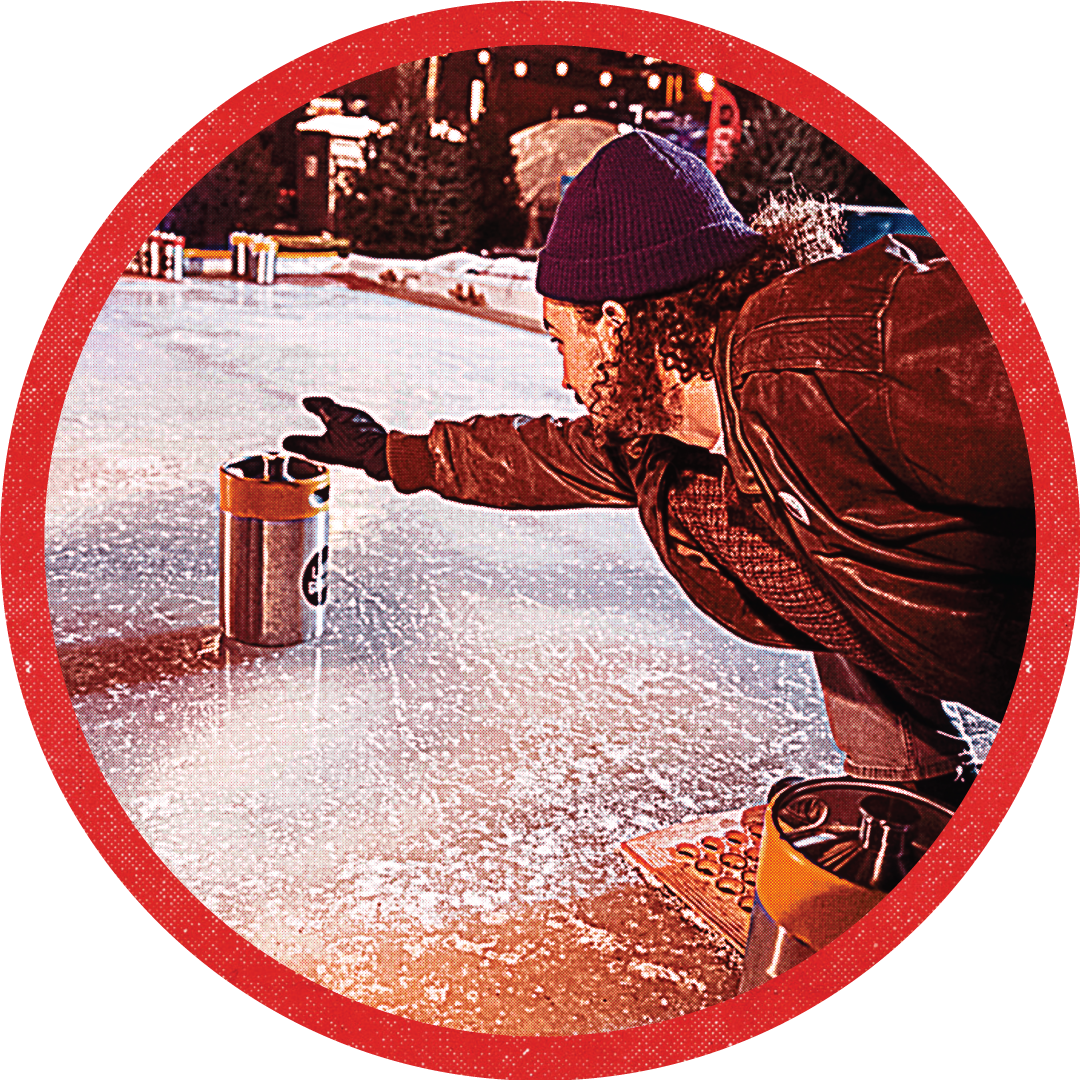 CURLING LEAGUE

Want to get into Brewery Curling, but feeling a little extra competitive? Our weekly Curling League is for you! Offered on three nights of the week, the League meets each week to compete on the ice. Get your team together, and get sliding!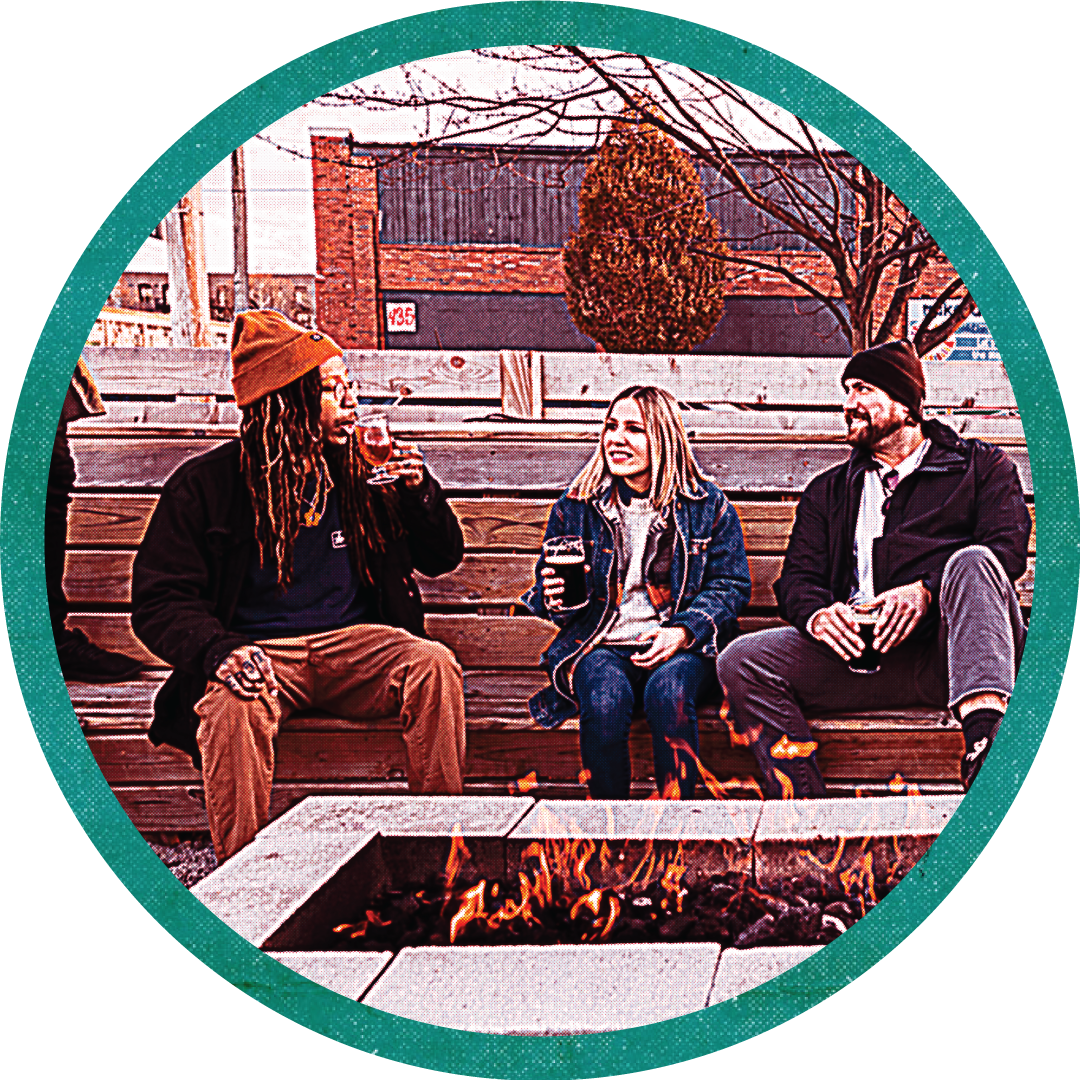 FIRE PITS

Throughout the winter (and cooler fall and spring days) we keep the ambiance and temperature high via gas-powered fire pits on our patio and throughout the beer garden. Go ahead and enjoy your beer under the stars while keeping toasty. 

CURLING AND IGLOO FAQ
---
WHAT IS BREWERY CURLING?
Brewery Curling is played on our 1,300 square foot ice rink located in the turf covered portion of our Beer Garden. Each 90 minute match is played by two teams (your included igloo holds up to 8 people) taking turns sliding kegs across the ice toward a target. Rules are very similar to bocce in that the team with the keg closest to the center of the target scores, and gets a subsequent point for each keg they have closer to the center than the opposing teams closest keg.
WHAT ARE THE RULES?
The winner is the team having the highest number of accumulated points at the completion of 10 ends. An "end" is when each team has thrown all of their stones (kegs) and the score has been decided.
Points are scored at the conclusion of each end as follows: the team with the stone (keg) closest to the center ("the tee") wins that end; the winning team is then awarded one point for each of its own stones lying closer to the tee than the opponent's closest stone.
If at the completion of an end no stone is on or inside the scoring circle ("in the house"), no team earns points in this end; this situation is called a "blank end." We will have someone on site to help answer any questions you have during the game.
Directions and rules will be provided at the start of your game and are posted throughout the curling area.
I HAVE A LARGE PARTY – WHAT ARE MY OPTIONS?
Groups are welcome to reserve multiple lanes, if multiple lanes are available at that time. Groups are welcome to invite more than 8 people, but please note that only 8 people fit comfortably in an igloo. Our rink has 6 total lanes.
WHERE CAN MY GROUP PARK?
Parking can be a little tricky in our neighborhood, so check out the map below for all the parking options in the area. There are tons of meters, free street parking, and large garages within a block or two of the taproom. We also have a small onsite parking lot, and Columbus offers myriad public transportation, rideshare, and taxi options.
Please do not park in the Strongwater/400 W. Rich parking lot across the street from the brewery, or in the Idea Foundry's parking lot behind the brewery. You may be towed.
CAN I RESERVE THE LANE LONGER THAN 90 MINUTES?
Only 90 minute reservations are available, however, your group is welcome to book the lane for a second 90 minute reservation if it has not been previously reserved. We absolutely encourage guests to keep their party going after their curling reservation and continue mingling in the taproom or beer garden after their reservation has ended. Groups can also reserve an igloo or the Kickstarter room following their curling reservation (pending availability).
IS THERE "TABLE SERVICE"?
Yes! New to this year, you can now order drinks from the bar via an online menu which can be accessed via QR code, beverages will then be delivered directly to your igloo by our friendly staff.
DO I HAVE TO MAKE A RESERVATION?
Yes, all igloos and brewery curling are reservation only, but you can walk in and make a reservation at the check-in station if there is availability. Follow these links to make a reservation online: Igloos / Curling
WHAT IF I DO NOT SEE MY TIME AVAILABLE TO MAKE A RESERVATION?
This means someone else has reserved this time and a curling lane and/or is not available.
CAN I RESERVE PRIVATE SPACE?
We are not able to close our doors to the public or offer private space in the taproom or beer garden. The only reservations we take are for our Beer Garden Igloos, Brewery Curling lanes, and our Kickstarter Room.
WHAT IS THIS BOOKING FEE?
It is the cost to reserve the curling lane or igloo. The rates are $70 for 90 minutes of curling with an igloo, $30 for an igloo Friday-Sunday, and $20 for an igloo Monday-Thursday. This fee will not be applied to your tab. You can cancel your reservation for up to 24 hours through your Tock account.
CAN I BRING IN OUTSIDE FOOD OR ALCOHOL?
Outside alcohol is strictly forbidden. Your group will be asked to leave if we find outside alcohol inside your igloo or anywhere on the premises. As for food, we allow outside desserts in our space and ask that you support our local food trucks. If you would like your party catered with food, please work with our food truck for that day. The food truck schedule can be viewed on our Taproom Page.
CAN I CATER IN FROM YOUR FOOD TRUCKS?
Yes! Details and contact info for our food trucks are listed below:
Mikey's Late Night Slice
Days: Thursday-Monday
Contact: Mike Denton - mdenton@latenightslice.com
Menu
Ray Ray's Hog Pit - Bulk Preorders
Days: Thursday-Sunday
I HAVE A LARGE GROUP – CAN OUR IGLOOS BE NEXT TO EACH OTHER?
We will do our best to accommodate group igloos to be next to each other, but cannot guarantee it – depending on other reservation times.
I NEED TO CANCEL MY RESERVATION/CHANGE TIMES/DAYS - HOW DO I DO THIS?
You can access your reservation through your Tock account to make changes.  If you have additional questions about your reservation, contact Land-Grant Brewing Company at cheers@landgrantbrewing.com for the fastest response.
I'M PLANNING AHEAD, LIKE WAY AHEAD. WHY DON'T I SEE MY DATE?
We are only able to accept reservations 90 days out from the current date.
CAN I GET WRISTBANDS OR DRINK TICKETS FOR MY GROUP?
Yes, we can provide drink tickets or wrist bands for groups. If you start a party tab, a 2​0% auto gratuity will be added at the end of the night.
IS BEER CURLING KID FRIENDLY/DOG FRIENDLY?
All are welcome in our igloos - including kids and your furry friends. NOTE: Children are permitted to participate in curling as long as their guardian has signed their waiver and is supervising at all times. The taproom and beer garden are 21+ after 8pm.
WHAT IF THERE IS BAD WEATHER?
Given that brewery curling is a weather-dependent activity and the unpredictability of central Ohio weather during the winter months– there is a chance that your reservation may be canceled and refunded because of the ice conditions. We want everyone to have a safe and enjoyable time playing this winter. We will contact you via e-mail if forced to cancel curling on the day of your reservation.
CAN I USE A LAND-GRANT GIFT CARD TO RESERVE A LANE?
Unfortunately, no. We use an external reservation system that cannot accept Land-Grant gift cards.